Meeting Mullah Fazlullah, the Taliban's new chief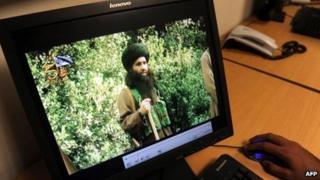 A BBC correspondent travelled to the mountainous far north of Pakistan to meet Mullah Fazlullah, shortly after the Swat Taliban had been defeated by the army in 2009. Here he describes meeting the man who went on to become the leader of the Pakistani Taliban.
After the defeat of the Taliban in the Swat valley in 2009, many militants fled further north to the Tirah Valley and that is where I met Mullah Fazlullah.
It is a beautiful and very remote district. The residents there, mostly farmers and people with small, humble businesses, have very little contact with Pakistan's major cities.
In their midst are various militant factions who have sought sanctuary among the mountain passes and for this reason the Tirah Valley has long been heavily bombed by Pakistan's air force.
When I reached the area after the Taliban's eviction from Swat, it was full of Taliban fighters who had poured out of Swat after the battles there. The atmosphere was febrile as militants plotted their next move.
One faction vowed to return to Swat to resume battle. The other faction planned to take their arms to Afghanistan.
A man defeated
I first encountered Mullah Fazlullah while he was busy making speeches to his fellow Taliban fighters. He was preaching jihad and telling his fighters not to lose morale after their recent defeat.
They were all gathered in a large open-air compound in a lush and green area, surrounded by trees. It was cold and crisp in the middle of the day.
He is a tall and powerfully built man and he made a speech full of emotion. He spoke forcefully and with the conviction of a man who believes he is directly fulfilling God's wish with his war.
After he finished talking, an aide of his wearing a coat, a scarf wound around his head and, typically and crucially, his Kalashnikov, beckoned me to go and meet Mullah Fazlullah.
The first thing I asked him was about his future plans and where he was headed in the immediate future, considering he was raw from defeat by the army.
"This is all God's land and we can go anywhere and nobody can stop us. We will soon deliver a good and hard lesson to the Pakistani government," he said.
He told me they were not defeated and that their position at that time was simply their strategy. He was defiant.
He told me very forcefully that he wanted Islamic Sharia law within Pakistan and that he would never cease seeking that end - that mission came across very clearly as his driving force.
Powerful rhetoric
We were seated indoors in a dark room and he spoke slowly and with conviction.
As he was talking so aggressively about his aims and his next moves, it seemed like the words of a fighter smarting from his loss on the battlefield. Although his rhetoric was powerful, he was clearly in a weak position at that time.
The audience was very short. He left soon afterwards, saying he wanted to go to meet some other high-ranking Taliban leaders elsewhere in Pakistan's tribal districts.
It was during his Swat campaign that it became clearer that Fazlullah was not a born field commander and his skill lay in his ability to inspire those around him through his words.
When I met him he was a defeated commander, a militant from outside Pakistan's tribal area, and a man who had not hailed from a strong and close-knit family and tribal network.
In that he was and remains different from other major militant commanders.
Nobody then could have predicted that he would become the head of Pakistan's Taliban just a few years on.