'Burmese embassy bomber' goes on trial in Indonesia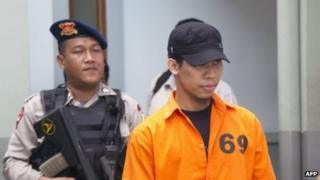 A man suspected of plotting to attack the Burmese embassy in Indonesia has appeared in court on terrorism charges that could result in a death sentence.
The suspect, known only as Separiano, is accused of plotting with Islamic militants to bomb the embassy to avenge the alleged killing of Rohingya Muslims in Burma - also known as Myanmar.
Four other suspects are expected to go on trial later this week.
The plot to attack the embassy followed weeks of anti-Muslim unrest in Burma.
It left many dead and tens of thousands displaced.
'Bomb making'
Separiano and another suspect were arrested on 3 May while riding a motorbike to the embassy in Jakarta, police said.
They said five home-made bombs were discovered in a backpack they were carrying and other explosive materials were found later at their rented house in the capital.
Days later, police arrested three other suspects, including Sigit Indrajid, the alleged mastermind.
In the indictment, prosecutors charged Separiano - the first to go on trial out of those arrested - with violating anti-terrorism laws. All deny the charges.
Prosecutor Susilo told the South Jakarta District Court as the trial began that Separiano was radicalised over several years after attending sermons by an extremist preacher at a central Jakarta mosque.
He also attended several sermons by the radical cleric Abu Bakar Bashir, the alleged spiritual leader of Jemaah Islamiyah network behind the 2002 Bali bombings.
Mr Susilo said that the suspect had studied bomb-making on the internet and bought materials to make explosive devices.
He communicated with other extremists to hatch the embassy attack plot on Facebook, the prosecutor said, and it was through this website that he met Sigit Indrajid, who leads the Negara Islam Indonesia (Islamic State of Indonesia) group.
"They wanted to bomb the embassy because of anger over Myanmar's treatment of Muslims," Mr Susilo told the court.
"He chatted with Sigit, who posted a lot of news about the Rohingya Muslims in Myanmar, which in turn attracted a lot of comments saying there should be retaliation against the infidel Buddhists."
At one point Sigit Indrajid posted on Facebook that people should target "the Myanmar embassy to avenge the slaughter of Muslims in Myanmar".
"We will set off our explosion as a surprise for the embassy," Mr Susilo quoted Sigit Indrajid as saying.
In response, Separiano is alleged to have replied: "Yes, OK."
When police arrested him, they seized chemicals and bomb-making instructions that had been bought by him and several others accused over the plot.
Sigit Indrajid and another man are among those who have been arrested and are due to stand trial later.