North Korea reveals warship sinking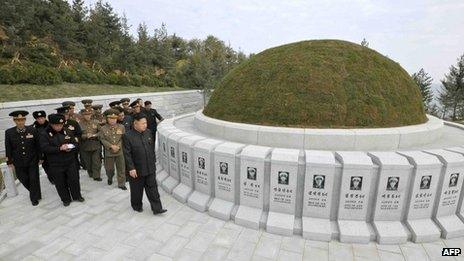 North Korea has revealed that one of its warships sank last month, killing a number of sailors, in a rare admission of military failure.
State media reported a visit by leader Kim Jong-un to a naval cemetery for the crew of "submarine chaser No 233".
Photographs showed Mr Kim surrounded by more than a dozen gravestones inscribed with the date 13 October.
The report said the vessel had been performing combat duties but gave no more information about what happened.
"Submarine chaser No 233 fell while performing combat duties in mid-October," state news agency KCNA said.
Images showed Mr Kim, accompanied by several officials, visiting a memorial which included multiple gravestones with images inscribed on them.
North Korea has a large military but much of its equipment is believed to be old and out of date.
Reports in South Korean media, citing unidentified sources, suggested age could have been a factor in the sinking.
These reports said the incident was believed to have taken place off Wonsan, on the east coast of the Korean peninsula, during an exercise.
The two Koreas remain technically at war, following the Korean conflict which ended in an armistice rather than a peace treaty.