What next for Pakistani Taliban after Hakimullah death?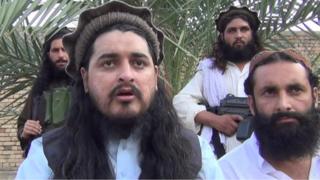 The killing of Hakimullah Mehsud, the head of the Tehrik-e-Taliban group (TTP), seems to have derailed the peace talks the Pakistani government was hoping to hold soon with the militants.
Pakistan's interior minister, Chaudhry Nisar Ali Khan, described the drone strike as "an attempt to sabotage the talks".
He said the strike had come a day before a three-member delegation of government negotiators was to head to the north-west to start peace talks with the TTP.
Pakistani officials had been expecting the drone strikes to stop ahead of the negotiations.
That was before two strikes on Thursday and Friday in the North Waziristan region, which houses the main Taliban and al-Qaeda sanctuary in the region.
Paving the way?
Pakistanis have long complained that the Americans have used drone strikes in the region to sabotage prospects of peace with the militants.
The death of a prominent TTP commander, Waliur Rehman, in another drone strike in May, led Mr Khan to remark: "Whenever we make an attempt to mend fences with the Taliban, something goes wrong."
Nevertheless, many in Pakistan feel the strike that killed Hakimullah Mehsud may actually spur the militants to submit to a peace deal with Islamabad.
A few weeks ago Mehsud gave a rare interview to the BBC, in which he laid down his conditions for peace - including the introduction of a harsh and controversial version of Islamic law in Pakistan.
With Mehsud now removed from the scene, the most influential groups left behind in the TTP are the ones that have favoured peace talks with Islamabad.
One of them comprises the loyalists of Waliur Rehman's group, now headed by commander Khan Said Sajna.
Waliur Rehman contested for the TTP leadership when the group's founding leader, Baitullah Mehsud, was killed in a drone strike in 2009, but lost out to Hakimullah Mehsud.
Sajna, who favours dialogue with Islamabad, is now touted to succeed Hakimullah Mehsud.
Sajna's men have been fighting, and have nearly won, a turf war with Hakimullah Mehsud's men in Pakistan's largest city, Karachi, which is also a major source of revenue in criminal operations.
The other group comprises the influential Punjabi Taliban, led by Asmatullah Muawiya, who publicly welcomed Prime Minister Nawaz Sharif's offer of peace talks with Taliban in August, and was reprimanded by the TTP leadership for doing so.
Although the Punjabi Taliban cannot hope to dominate the TTP, which is essentially led by tribesmen from the Mehsud tribe, they do constitute a substantial force supplying highly trained and ideologically motivated fighters to both the Afghan Taliban groups such as the Haqqani network, and Pakistani anti-Shia sectarian networks.