Nepal holiday sweet shops raided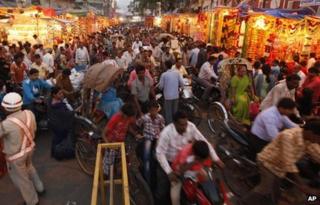 The government in Nepal has conducted a number of raids on what it describes as sub-standard sweet shops.
The raids come as the country prepares for gift-giving during the major Nepalese Hindu festival of Tihar.
Government inspectors raided more than 20 sweet shops in the capital, Kathmandu, and found nearly all of them had poor production facilities.
Inspectors have found worms in sugar, adulterated milk, and chemicals added to make the sweets look more appealing.
"We found that the shops where the sweets are sold are very clean," Jiwan Prabha Lama, the Director General of the Department of Food Technology and Quality Control, told the BBC's Nepali service.
"But the places where these sweets are manufactured are very unhygienic. Some of the raw materials they have used are even out of date," she said.
Family gifts
BBC South Asia Editor Joanna Jolly reports that these sweets are traditionally given as gifts during Tihar.
The five-day festival, which shares some traditions with Diwali in India, also celebrates nature, and sisters and brothers exchange gifts during the holiday.
Huge numbers of colourful, often milk-based, treats are sold in specially decorated shops and eaten throughout the country.
Consumer groups in Nepal say the government needs to do more than raid food production facilities during high-profile festivals.
They say only a few businessmen have been prosecuted for unhygienic production facilities, and more needs to be done to raise health standards.