Pakistan-Taliban dialogue 'has started' - Nawaz Sharif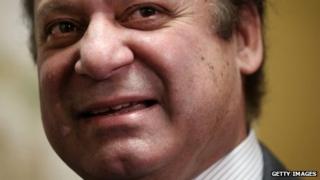 Pakistan's Prime Minister Nawaz Sharif has said dialogue with the Taliban "has started".
Mr Sharif's comments came during a meeting in London and were later released by the Pakistani embassy.
He said the dialogue should be "within the constitutional framework", but that he "could not wait and see" as innocent people were being killed in Pakistan.
A Taliban source in Pakistan told the BBC there had been no direct approach so far from Islamabad.
The source said no government envoys had travelled to the tribal region of north-west Pakistan where the Taliban were based.
Earlier this month, Pakistani Taliban leader Hakimullah Mehsud told the BBC he was open to "serious talks" with the government, but added that he had not yet been approached.
In a rare interview, he denied carrying out recent deadly attacks in public places but said he would continue to target "America and its friends".
After being elected prime minister in May, Mr Sharif announced he would open unconditional talks with the Taliban.
He has also been pressing the US to end its drone attacks against the militants in Pakistan, which have also killed a number of civilians.
The Taliban have killed thousands of people in their war against the state in recent years.
The militants have also been been blamed for a string of deadly suicide attacks.