Khmer Rouge trial ends with defendants denying charges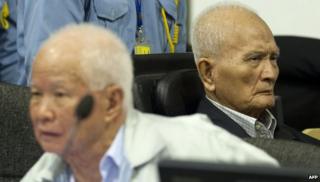 The trial of the last two surviving leaders of Cambodia's Khmer Rouge has ended with the defendants denying charges of crimes against humanity.
In lengthy closing statements, Nuon Chea, 87, and Khieu Samphan, 82, distanced themselves from the deaths under the Khmer Rouge in the 1970s.
It is believed that up to two million people died in that time.
A verdict is expected early next year, two years after the trial started.
Nuon Chea, the regime's number two leader, and Khieu Samphan, its head of state, have defended themselves in the past by insisting that they believed they were acting in the best interests of the nation and had been unaware of the full extent of killings.
"It is easy to say that I should have known everything, I should have understood everything, and thus I could have intervened or rectified the situation at the time,'' Khieu Samphan defiantly told the court on Thursday, the Associated Press news agency reports.
"Do you really think that that was what I wanted to happen to my people?"
"The reality was that I did not have any power," he said.
Nuon Chea - also known as Brother Number Two - defended his actions, saying he never ordered Khmer Rouge cadres "to mistreat or kill people to deprive them of food or commit any genocide."
But he accepted "moral responsibility" for the deaths, repeating previous efforts to distance himself from the actual crimes.
"I would like to sincerely apologize to the public, the victims, the families, and all Cambodian people," he said.
The frail former leader spoke steadily as he read from pages of notes, Associated Press reports.
"I wish to show my remorse and pray for the lost souls that occurred by any means" during the Khmer Rouge rule he said.
'Worse than monsters'
Responding to Nuon Chea's testimony, Bin Sivla, 55, who lost 11 relatives under the regime, said "we cannot accept his apology. He lied to us. He wanted to be acquitted. He did not care about others," Agency France-Presse reports
If he did not give the order, his subordinates would not have dared to kill," she said, describing the Khmer Rouge leaders as "worse than monsters".
"Monsters would kill only a few people, but they killed millions of people."
Two other people also faced charges along with Nuon Chea and Khieu Samphan.
But Ieng Thirith, 80, formerly the social affairs minister, was released after the tribunal ruled that she was unfit to stand trial due to illness.
Her husband, former senior Khmer Rouge leader Ieng Sary, who served as the regime's foreign minister, died while on trial at the age of 87.
Khmer Rouge leader Pol Pot died in 1998.
The tribunal, established in 2006, has sentenced only one defendant so far. Chief jailer Kaing Guek Eav, known as Duch, was sentenced to life imprisonment for his role in running the notorious Tuol Sleng prison, where thousands of inmates were killed.
The tribunal has run into problems, including court workers going on strike over unpaid wages in September.
Rights groups and campaigners have criticised the pace of the trial and voiced fears that the age of its remaining two defendants may mean that justice is not served.