Fukushima nuclear operator Tepco 'should split up'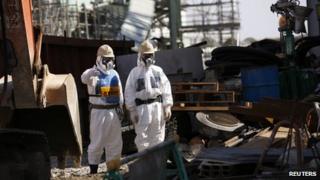 The operator of Japan's stricken Fukushima nuclear power plant should be broken up, a committee is set to propose according to unnamed sources.
The ruling party panel wants part of the Tokyo Electric Power Company in charge of cleaning to be separated.
Fukushima has been beset by problems - including toxic water leaks - since it was damaged by the earthquake and tsunami of March 2011.
The clean up is expected to take 40 years and cost at least $100bn (£62bn).
Nearly 100,000 people are still unable to return to their homes because of high levels of radiation.
Cooling systems for reactors at Fukushima were knocked out during the disaster, causing meltdowns at three of them.
Water is being pumped in to cool the reactors. However, this creates large amounts of contaminated water that must be stored securely.
Some of the water has leaked from the tanks, pipes and damaged structures, leading to concerns contaminated water is mixing with groundwater that is flowing into the sea.
Workers have been batting to contain the toxic water leaks and there are reports that they are suffering from low morale and exhaustion.
The panel from the Liberal Democratic Party (LDP) is tasked with the recovery of areas devastated by the earthquake and tsunami.
The panel says Japan's Fukushima disaster needs to be dealt with by a small, specialist company focused entirely on the clean-up operation, local media report.
It is expected to hand their proposals to Prime Minister Shinzo Abe next week, Reuters news agency says, citing a source familiar with the matter.
It will recommend "creating a clear and realistic organisation" for operations at Fukushima, the source added.
The proposals come after months of intense criticism of Tepco, which owns the plant and is currently responsible for the clean-up.
The idea is that the part of Tepco responsible for the clean-up would be split off, while the rest of the corporation would be allowed to return to its core business of generating electricity, says the BBC's Rupert Wingfield-Hayes in Tokyo.
Some will no doubt worry that Tepco is being let off the hook, our correspondent adds.