Thailand opposition to protest amnesty bill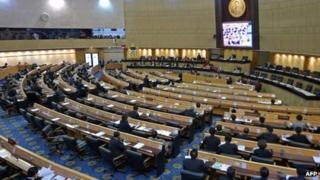 Four members of Thailand's opposition have resigned their positions to enable them to lead street protests against a proposed amnesty bill.
They say the bill will allow former PM Thaksin Shinawatra to return from exile without serving jail time.
The bill, backed by government led by Mr Thaksin's sister Yingluck, is expected to be approved this week.
The amnesty applies to offences committed during the political turmoil after Mr Thaksin was ousted in a coup.
Mr Thaksin, who served as prime minister from 2001 to 2006, was convicted of abuse of power in 2008 and sentenced in absentia to a prison term of two years.
He denied the charges, calling them politically motivated, and in the years following the coup remained popular with poor and rural voters, whom he had championed.
He has been living in self-imposed exile in Dubai.
Up until this month, the government was only considering an amnesty for ordinary people and not the leaders.
But a parliamentary committee dominated by Mr Thaksin's party has now widened the scope of the amnesty, apparently opening the way for his conviction for abuses of power to be overturned, says the BBC's Jonathan Head in Bangkok.
Thailand's colour-coded political divide has been muted in the past two years, but it looks like the two sides are now lining up for yet another round in a battle that hinges on a single issue: whether the abrasive and charismatic Mr Thaksin should ever be allowed to play a leading role in the country again, our correspondent adds.
After the first post-coup polls saw Mr Thaksin's allies elected, anti-Thaksin yellow-shirt protesters subsequently shut down Bangkok's main international airport for several days.
The Democratic Party leader, former Prime Minister Abhisit Vejjajiva, then formed a government, which in 2010 was hit by more than two months of street protests by red-shirt demonstrators in Bangkok that left more than 90 people dead, including protesters, civilians and soldiers.
In August, thousands of people also took to the streets as the bill was being debated in parliament.