Afghan villagers stone to death alleged bomber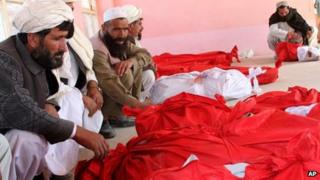 A man was killed by Afghan villagers because they believed he set off a bomb that killed 18 people on their way to a wedding on Sunday, officials have said.
The governor of Ghazni province, Musa Khan Akbarzadah, said locals in Ander district stoned the man to death. His body was then riddled with bullets.
The villages claimed the man had admitted responsibility for Sunday's attack and planted a second bomb.
The Taliban have denied involvement, blaming government-allied militiamen.
Afghan civilians are often hit by roadside bombs planted by the group to kill government officials.
Minibus destroyed
Mr Akbarzadah said the suspected bomber was found by the villagers hiding near his home in Ander, a poor and deeply traditional Pashtun area in the east of the province.
Deputy Governor Mohammed Ali Ahmadi said a crowd of more than 100 people dragged him out of his hiding place, beat him with sticks and shovels, and then stoned him until he died.
"They [then] fired about 200 bullets at his body," he told the AFP news agency.
Locals said the man had admitted carrying out Sunday's bombing and given information about a second device planted nearby, according to AFP.
But a local councillor in Ghazni, Abdul Jami Jami, disputed that version of events. He told BBC Pashto that the man was killed when he was about to plant a second bomb, which went off unexpectedly.
In Sunday's attack, a roadside bomb exploded beside a minibus packed with people on their way to a wedding.
Eighteen people, including at least 14 women and one child, were killed, deputy provincial police chief Col Asadullah Ensafi said.
Only five of the 23 people on board, all of them women, were believed to have survived.
The Taliban issued a statement saying it "vehemently" denied any involvement.
A spokesman, Zabiullah Mujahid, said the area was under the control of militiamen allied to the government, known as "Arbakis".
"The mujahideen do not go there and targeting a wedding ceremony vehicle is not an act by the mujahideen," he added. "Rather, such acts are carried out by the arbakis themselves because of personal disputes."
Correspondents say the Taliban normally deny responsibility for bombings which cause civilian casualties.
Andar district, where the attack happened, was once described by Nato as the most dangerous and unsecured area in Ghazni province, says the BBC's Afghanistan correspondent David Loyn.
In June, Nato handed over security for the whole of Afghanistan to Afghan forces, but some 97,000 Nato troops remain.
The Nato-led International Security Assistance Force (Isaf) currently has troops from 50 contributing nations - including 68,000 from the US - providing military back-up when necessary.
By the end of 2014 all combat troops should have left. They will be replaced - if approved by the Afghan government - by a smaller force that will only train and advise.