Kashmir: India says soldier killed in Pakistan firing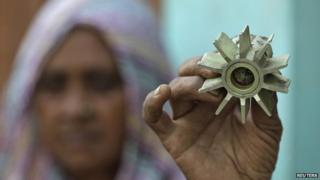 The Indian army says one of its soldiers has been killed by Pakistani firing in Indian-administered Kashmir.
The killing took place in the Uri sector on the Line of Control (LoC), the de facto border that divides Kashmir between India and Pakistan.
Pakistan is yet to comment on the latest incident.
In recent months, India and Pakistan have regularly accused each other of unprovoked firing along the border in disputed Kashmir, which both claim.
Monday's killing came hours before the military authorities from the two countries were due to meet to end tensions along the LoC, the BBC's Riyaz Masroor in Srinagar says.
India says there have been nearly 200 violations of the decade-long ceasefire agreement since the beginning of this year.
Reports say hundreds of villagers have fled their homes in border areas in recent days due to repeated firing from Pakistan.
The increased volatility along the border comes 10 years after a ceasefire was agreed along the LoC.
In September, the prime ministers of the two countries met in New York and agreed to maintain peace on the border, but correspondents say their pledge seems to have made little difference on the ground.
Last week, Pakistani Prime Minister Nawaz Sharif vowed to go the "extra mile" to make peace with India, saying while on a trip to the US that the two countries can resolve all issues, including Kashmir, through dialogue.