Two climbers die on New Zealand mountain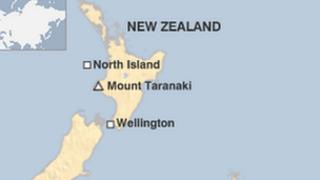 Two mountain climbers have died in New Zealand after they became trapped by bad weather, police say.
Japanese national Hiroki Ogawa, 31, and New Zealander Nicole Sutton, 29, made it to the summit of Mount Taranaki on the North Island.
But the weather deteriorated as they descended, forcing them to dig a snow cave for two nights, officials say.
Rescuers had been trying to reach them since Saturday, but only made it to their location on Monday.
The pair had been able to reach authorities through text messaging, but a helicopter could not be sent in due to hazardous weather conditions.
Ms Sutton's parents said she was in a relationship with Mr Ogawa, who was a research fellow at a university.
Keith Sutton, Nicole Sutton's father, told media he received a text message from her on Sunday saying she thought she would probably not survive.
She was still alive when rescuers located the pair on Monday, but police say she subsequently lost consciousness and died.
The pair were part of a group of eight from a mountaineering club who made the climb. Four made it down safely and two more after spending a night on the mountain.