Returned South Koreans 'entered North Korea via China'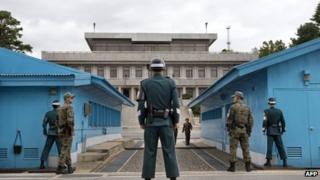 South Korea says six men returned by North Korea on Friday all entered the communist state via China, some in search of a better life.
The men, aged 27 to 67, were handed over at the truce village of Panmunjom, on the border between the two nations.
The men said they had been held in detention centres before their return.
The group could face charges, because South Korea bans its citizens from entering North Korea without official permission.
The men entered North Korea illegally between 2009 and 2012, South Korea's Yonhap news agency said, either by walking across frozen rivers separating the country from China or jumping off a cruise ship and swimming.
Some had experienced employment problems and had believed life in North Korea could be better, local reports said.
Instead they were housed in detention centres around North Korea and questioned for months before being handed back.
The remains of a South Korean woman were also returned with them.
Officials told local media she was the wife of one of the men who returned and that he had strangled her in a suicide pact but had not killed himself.
It is rare for North Korea to return South Koreans unsolicited.
The move is being seen as a conciliatory gesture following the cancellation of reunions, planned for last month, of families split by the division of the Korean peninsula at the end of the Korean War.