New Zealand to reduce postal services in 2015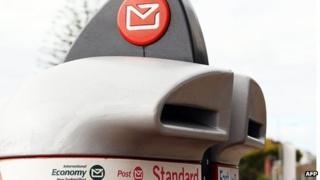 New Zealand's postal service is set to reduce the frequency of its basic deliveries, as customers increasingly turn to electronic communication.
In an agreement with the government, six-day-a-week deliveries in urban areas may drop to just three days starting in June 2015.
Services in rural areas, where customers tend to rely more on mail, will be maintained at five days.
The postal service said the move was needed for its financial viability.
"The change in delivery frequency at some point is inevitable given the ongoing and rapid decline in letter mail volumes," the New Zealand Post said in a statement.
It added that while parcel volumes "have increased by nearly three million since 2006", letter volumes over the same period dropped by at least 30%.
It was not immediately clear how many jobs would be lost as a result of the planned cut in deliveries.
Communications and Information Technology Minister Amy Adam said in a statement that postal volume decline in New Zealand was at 8% per annum.
She said that if changes were not made to the government's agreement with the service, "then significant and ongoing government subsidisation" may be required.
The set minimum standards apply to basic standard postal services and do not include others like express mail or courier post, she added.
The change is scheduled to take place in June 2015.