Australian bush fires: Military probes link to Lithgow blaze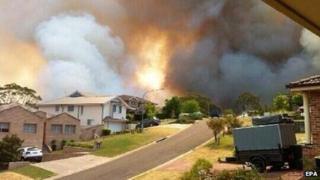 Australia's military is investigating whether a training exercise using explosives may have started one of the huge bush fires burning in the state of New South Wales.
The exercise took place at a base near the town of Lithgow in the Blue Mountains region on Wednesday.
It was the same day that a massive bush fire - which is still burning - began.
About 200 homes have been destroyed in dozens of fires which have been burning for several days.
The BBC's Jon Donnison in Sydney says this year's fires have come unusually early after unseasonably hot weather, and many are fearing a long and dangerous summer.
One man has died - possibly of a heart attack - while trying to protect his home.
The Australian Defence Force issued a statement about the fire burning between Lithgow and Bilpin, some 80 km (50 miles) north-west of Sydney, which is reported to have burned through 30,000 hectares (74,000 acres) and destroyed properties.
It said it was investigating the circumstances of the fire, which began on defence land.
"The fire started on 16 October, the same day that defence personnel were conducting an explosive ordnance training activity," the statement said. "Defence is investigating if the two events are linked.
"Our thoughts are with those who have lost property or whose property is threatened by these devastating fires."
Firefighters have been trying to make the most of a relatively cool day to tackle about 20 fires that are burning out of control, but higher temperatures and strong winds are expected to create difficult conditions in the coming days.
New South Wales Rural Fire Service Deputy Commissioner Rob Rogers said Saturday's conditions were a "pause", but that the fire perimeter stretched for more than 500km.
"We're by no means out of the woods," he told broadcaster ABC. "It's just calmed down a little bit and obviously we're bracing ourselves for these worsening conditions."
Rural Fire Service Commissioner Shane Fitzsimmons said some of the fires were so large they would take some time to completely extinguish.
"Firefighters will be working on these fires for weeks," he said.
"It's all about reducing the risk of these fires to breach containment lines and run under hotter, drier, windier condition over coming days."
Smoke and ash from the wildfires have blanketed the Sydney skyline.
Satellite image of fires around Sydney