Bangladesh PM Hasina proposes all-party election cabinet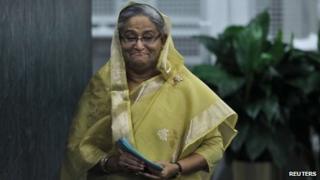 Bangladesh's Prime Minister Sheikh Hasina has proposed forming a cross-party interim cabinet to supervise the general election due early next year.
Addressing the nation, she said her plan would ensure a credible election.
But the opposition Bangladesh Nationalist Party (BNP) has long argued the election should be held under a non-party caretaker government.
Ms Hasina has rejected such a plan saying there is no scope for unelected people to supervise the election.
"We sincerely want all parties to participate in the polls. We want nobody to be left out," she said in a televised address to the nation.
Boycott threat
"I am expecting the opposition to positively respond to my proposal. We are sincere about putting our democracy on a firm footing and conducting a truly free and fair polls with the help of all parties," the prime minister said.
Ms Hasina did not set out any details of her proposal or clarify who would head the all-party government.
The announcement comes amid political uncertainty with Bangladesh's two main parties - Sheikh Hasina's Awami League and the BNP - failing to agree over how the election process should be managed.
The BNP has not given any official reaction to Sheikh Hasina's speech.
But the party, led by Khaleda Zia, has previously threatened to boycott the elections if they are not held under a non-party caretaker government.