Australian man dies after surviving Mount Everest avalanche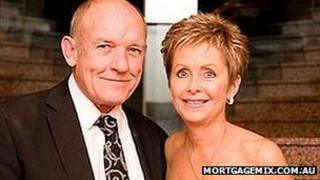 An Australian man who survived six hours buried beneath an avalanche on Mount Everest has died after walking eight hours to reach safety.
Dean Higgins, 60, dug his wife, Wendy, and two Australian companions out from under ice and snow after the avalanche struck on Tuesday, family friends say.
But after the three made a gruelling descent, Mr Higgins, who was wearing only a T-shirt, collapsed and died.
Chinese state media said three local porters were killed in the avalanche.
The Australian group had been asleep in a tent on the Chinese side of the mountain, when they were buried by the avalanche, reports say.
Family friend Julie Mahony told Australia's ABC News that she had spoken to Wendy Higgins about her ordeal.
"They were under the snow for about six hours and Dean dug them out," she said.
"They had to get down the mountain to safety and that took approximately eight hours.
'So exhausted'
"We're not exactly sure what happened, but he was alive until they got down the bottom."
Ms Mahony said Wendy Higgins was physically unharmed and keen to return home to see her daughter, Sara, 25.
Keith Caine, a colleague of Mrs Higgins, said: "He ended up saving everyone else but he was only wearing a T-shirt and he was unable to save himself, he died of hypothermia."
Mr Caine said Mrs Higgins told him that during the descent, her husband could not continue without being helped.
"He had to be carried, he was just so exhausted," Mr Caine said.
"He was alive at the bottom and then passed away."
Mr and Mrs Higgins ran a mortgage-broking franchise in the Adelaide suburb of Glenelg.
Michael Russell, chief executive of Mortgage Choice, described Dean Higgins as a "beautiful man" who loved his wife and daughter.
"He was loved by the entire Mortgage Choice family and his clients as well," Mr Russell told The Australian.
China's Xinhua new agency, citing local officials, said that the group had entered "a restricted area on the mountain without permission" and camped at the foot of Everest.