Pakistan bomb: Imran Khan condemns murder of Israrullah Gandapur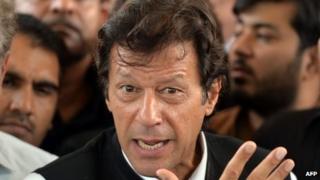 Pakistan Tehreek-e-Insaf party (PTI) leader Imran Khan has condemned the killing on Wednesday of a provincial law minister and at least seven others in the north-west of the country.
Mr Khan said that he was "devastated" by the suicide bomb attack which killed Israrullah Gandapur.
The PTI governs Khyber Pakhtunkhwa, a militant stronghold, and backs talks with the militants.
Mr Khan called for those responsible to be caught as soon as possible.
The bomber struck as the minister was greeting locals inside his residence in Kulachi village, 40km (25 miles) west of Dera Ismail Khan, on the first day of the Muslim festival of Eid al-Adha.
Mr Gandapur was taken to hospital in a critical condition but died on the way. More than 30 people were wounded.
In a statement on his party's website, Mr Khan said that he was "stunned" by Mr Gandapur's death.
The former Pakistani international cricketer said that he and Mr Gandapur had enjoyed watching a game together in Peshawar on Sunday.
"My prayers go to Israr's wife, his two children and his parents," Mr Khan said.
He called on the provincial government to bring the killers speedily to justice while at the same time urging the central government not "to drift into inaction" following a conference in September in which various political parties agreed that Pakistan should pursue negotiations with the Taliban while at the same time seeking an end to US drone strikes.
Last week the Pakistani Taliban leader told the BBC he was "open to talks" but would continue to target the US and its allies.
There was no immediate claim of responsibility for the attack. Mr Gandapur is expected to be buried on Thursday in Kulachi.
He is the most senior member of the PTI to be killed in a wave of attacks which have left hundreds of people dead in recent months.
The PTI posed a strong challenge to the Pakistan Muslim League which won general elections in May.
It narrowly failed to become the country's official opposition but did win most votes in Khyber Pakhtunkhwa.
The party advocates starting peace talks with the Taliban, and also opposes US drone attacks on targets inside Pakistan.
Correspondents say those policy initiatives helped Imran Khan win votes but he is now under pressure for wanting to talk to militants who are accused of carrying out the bombings.
Pakistan has seen a wave of bombings in recent weeks, much of it centred on the Khyber Pakhtunkhwa capital, Peshawar, where more than 100 people were killed in three attacks in the space of a week late last month.