Tony Abbott's month in office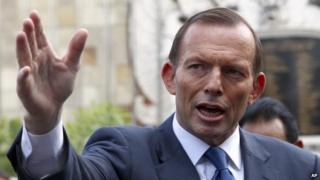 Australia's new Prime Minister Tony Abbott came to power one month ago, saying he wanted to take politics off the front pages.
It was perhaps an unusual remark for a man who you might have thought would have welcomed that his time in the limelight had finally come.
But after the sometimes soap opera-style politics of Labor's Rudd-Gillard-Rudd era, one of the main messages Mr Abbott seems to have wanted to send out is "everybody just calm down".
"He has definitely wanted to project the image of there being a steady hand at the tiller," says Dr Peter Chen, a lecturer in media politics at the University of Sydney.
The message has been "a period of uncertain government is over and the grown-ups have arrived in town", says Mr Chen, who like most people believes Labor's infighting and disunity was at the root of the party's election loss.
"Tony Abbott spent four years presenting a sense of chaos in the Rudd-Gillard governments, so an aura of calm was the ideal contrast to try and make," says Paula Matthewson, a political blogger and former adviser to former Primer Minister John Howard.
'Sarah Palin effect'
One way Mr Abbott had tried to keep politics out of the papers - or at least the wrong kind of politics - has been by trying to control the amount of media appearances his ministers make.
All requests for media interviews apparently now have to be run past the prime minister's office first.
The strategy might have worked. Even Mr Abbott's critics acknowledge things have gone relatively smoothly.
"I'd give him seven or eight out of 10," says Dr Chen a little begrudgingly, adding that might be down to what he calls the "Sarah Palin effect: it's not been the disaster that everyone thought it might have been".
There have been some difficult moments. The new prime minister did receive some flak when he announced that his new cabinet would contain only one woman, Foreign Minister Julie Bishop. But the move didn't seem to take too many people by surprise.
There has been a small expenses scandal. Mr Abbott was forced to pay back more than $1,500 (£935) of taxpayers' money that he claimed in travel expenses to attend the wedding of two colleagues back in 2006.
There have also been questions about the prime minister, a well-known fitness fanatic, having used public money to travel to take party in various sporting events, including a triathlon.
But at least so far, the revelations don't really seem to have gained much traction.
'Clean shot'
It's likely the now Labor opposition won't want to push for any investigations too hard, fearing their own expenses might be the next ones to be peered into.
And the fact that for the past month the Labor Party has been distracted by its own leadership contest, won this week by Bill Shorten, has meant the new government has had things relatively easy.
"Labor has vacated the field for the first month, which has really given Abbott a clean shot," says Ms Matthewson.
"It's allowed Abbott to get away with things he might not have been able to do and to set the agenda."
And his agenda has not presented too many surprises. The new government this week drew up draft legislation to repeal Labor's carbon tax, an issue Mr Abbott campaigned hard on.
Whether he can do it as quickly as he wants to is another matter. Mr Abbott's coalition has a majority in the lower house of parliament, the House of Representatives, but not in the upper house, the Senate. The approval of both houses is needed to ratify legislation.
The government might have to wait until July 2014 when senators elected last month who are against the carbon tax get to take up their seats.
On foreign policy, Mr Abbott has applied his mantra that the focus would be "more towards Jakarta than Geneva". His first foreign visit was to Indonesia for the APEC summit earlier this month.
Mr Abbott will need Indonesia's help if he is to meet his campaign promise to "stop the boats" carrying asylum seekers to Australia's shores. Indonesia is a key transit point for the people smugglers who bring them here.
Tony Abbott has said it will be a stand-or-fall issue for him, but realistically it will require assistance from Indonesia if the flow of asylum-seekers is to be stopped.
"Some of the inflammatory rhetoric towards Indonesia on asylum-seekers has quickly disappeared" says Mr Chen. "Abbott has been much more conciliatory in power than opposition."
These are of course early days. The saying goes that a week is a long time in politics. But a month is probably too short to judge a government.