Air India investigates 'worm sandwich' allegations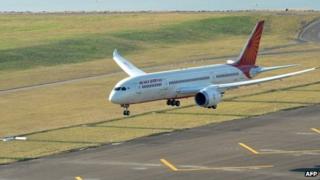 Air India is to launch an investigation after a passenger said he had found worms in his mid-flight sandwich, a company spokesman has told the BBC.
The passenger allegedly made the discovery during a flight from New York to Delhi on 28 September.
It is the latest in a series of mishaps to hit India's struggling and heavily indebted flagship carrier.
Media reports say that a large panel in the underneath of an Air India jet fell off in mid-air on Saturday.
Experts quoted in Indian newspapers say that although the Bangalore-bound Dreamliner aircraft landed safely, the incident put about 150 passengers on board at a grave risk.
The Indian Directorate General of Civil Aviation is probing the incident, which Air India officials said was not an emergency even though there had been a "gaping hole" in the aircraft.
Dreamliner aircraft have worldwide been hit hit by numerous technical and safety problems since the first aircraft was displayed in 2009.
'Very rare'
Correspondents say that it is unclear whether the creatures discovered in the sandwich incident were worms or maggots.
An Air India spokesman told the BBC that the incident "involved a leading caterer who supplies all US airlines".
He said that the food was picked up in the US not in India.
"We have already taken suitable action against the caterer," the spokesman said.
He described the incident as "very rare" and said that normally caterers had very strict hygiene conditions.
The spokesman said that "a full investigation" into the incident was now under way.
The loss-making airline has been hit by a string of issues, including safety concerns.
In May an Air India flight was forced to land after the pilot was locked out of the cockpit during a toilet break.
He was unable to gain access to the cockpit because of a jammed door.
Earlier in the same month the airline said that it was investigating an incident in which the autopilot system of a passenger jet was accidently switched off.
The Mumbai Mirror reported that a stewardess had accidentally turned it off while two pilots took a break.