Ganesan Nimalaruban death: S Lanka rights case dismissed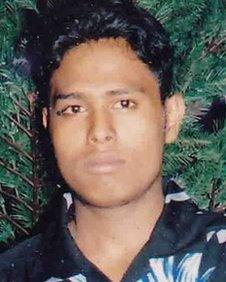 The Supreme Court in Sri Lanka has dismissed a case in which the parents of a dead Tamil prisoner were suing the state for violation of his rights.
Sri Lanka's de facto chief justice has denied leave to proceed in the case of Ganesan Nimalaruban.
He was one of two inmates who died in mysterious circumstances after prison authorities broke up a siege in northern Sri Lanka last year.
Both inmates died after being transferred to another jail.
Several other inmates were reportedly injured after a failed mutiny at Vavuniya prison in the north during which a group of inmates, mostly Tamil Tiger suspects, took prison guards hostage in a protest against prisoner transfers.
The siege was successfully broken and all the prisoners relocated.
The prisons department said Mr Nimalaruban, 28, died of heart disease - but his family and lawyers said he also suffered many contusions and abrasions, and that the post-mortem report acknowledged physical trauma as one cause of his death.
According to legal sources, the chief justice told the Supreme Court hearing that the army had no option but to quell the riot, reports the BBC's Charles Haviland in Colombo.
When asked if the prisoner was injured during the riot or after it, the chief justice said the man's family ought to know.
The family is now considering international options for legal recourse.
They say they have "grave doubts" on the manner of their son's death and the subsequent inquiry which they say glossed over important details.
The government denies allegations from civil society campaigners that Ganesan Nimalaruban was killed in an extra-judicial fashion.
Sri Lanka is hosting the biennial Commonwealth Summit next month, but human rights controversies in Sri Lanka have prompted Canada's prime minister to boycott the event, our correspondent adds.
Related Internet Links
The BBC is not responsible for the content of external sites.