The goal of Afghanistan's beautiful game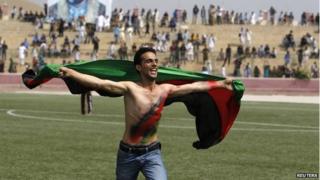 Win or lose in Friday's final of Afghanistan's new Premier League, Afghan footballers know their beautiful game is much more than just sport.
They are inspiring a war-torn country to achieve the goals that matter most here.
"The most powerful platform to unify people is football" declares Shafic Gawhari, co-commissioner of the new league.
That power was proven last month when Afghanistan's national team, with players drawn from the league and foreign clubs, beat India to win the South Asian Federation Football Cup.
"Everyone, for the first time in our history, joined a celebration for an Afghan victory," says former footballer Gawhari, of the extraordinary joy that erupted across this country.
United team
A lot is unprecedented - and a bit unusual - in Afghanistan's football world. In just two short years, a country still held back by 30 long years of war built a new football stadium, and saw the creation of an eight-team league that cuts across the ethnic lines that often divide this nation.
It all started with a reality TV programme on the private TOLO network to choose players and strong backing from a wealthy private sector.
"We've come a long way," says coach Fahim Sharifyar, as he gives his squad from northern Afghanistan a pep talk before the big game.
Simorg Alborz, the club from five northern provinces, is up against Kabul's Shaheen Aasmayee in Friday's final.
I meet the northern team at a well-guarded guest house in Kabul where players sleep in bunk beds and eat meals together under a colourful tent in the garden.
"We don't think about which province each player comes from," team Captain 27-year-old Munir Nadeem tells me. "We feel like brothers and we play well together."
On the other side of Kabul, their rivals are training at the old Ghazi Stadium which won global notoriety during Taliban rule as a very public stage for harsh Islamic punishments.
Now the pitch is surfaced with artificial grass lined with white chalk. Brightly coloured bleachers sport billboards of Afghanistan's former warlords and kings, as well as President Hamid Karzai.
"I've dreamed of playing football ever since the day I first came to Ghazi Stadium as a teenager and felt the excitement at the match," recalls 26-year-old Faiz Mujtaba, who plays for the Kabul team.
But he also can't forget the lowest point of his career during Taliban rule.
"Before one match, the Taliban brought in one man and shot him four times. Then two others were brought in and their hands were amputated. After that, no-one was interested in seeing football in that stadium."
Now the nation is watching, including even the president.
At Faiz's modest apartment in Kabul where he lives with his extended family, a photo of President Karzai congratulating the national team after their South Asian triumph takes pride of place.
Faiz's youngest brother, 12-year-old Sami, sports a striped jersey of star Argentine striker Lionel Messi. But now he's inspired by an even bigger role model.
"I want to be footballer just like my older brother," he says, beaming shyly.
Football is power
Afghanistan's new football heroes are now goodwill ambassadors, sending messages through local media to young Afghans to urge them to avoid drugs, go to school, and even to vote in next year's presidential elections.
Does football success have lessons for Afghan politicians now gearing up for next year's decisive and potentially divisive presidential contest?
"Of course," says Shafic Gawhari, with a broad smile. "It takes teamwork, transparency, and goal-oriented projects for sustainable development."
Young Afghan activists hoping for change in a political culture still dominated by warlords of the past also see football as a powerful new weapon.
"Eleven men inspired 32 million people and not one of them was holding a gun," points out Ahmad Shuja, who belongs to a new youth movement called Afghanistan 1400.
"I hope our political leaders in this election realise there is a new narrative of what it means to be a hero."
But on Friday, it will be the football final that matters.
"When I play for Afghanistan, I play for my country," says a confident Faiz Mujtaba. "But today I want my Kabul club to win."
Those are the kind of words spoken by true footballers the world over. And that is what Afghanistan wants too - all the good things any nation aspires to, including great football.