Burma agrees preliminary deal with Kachin rebels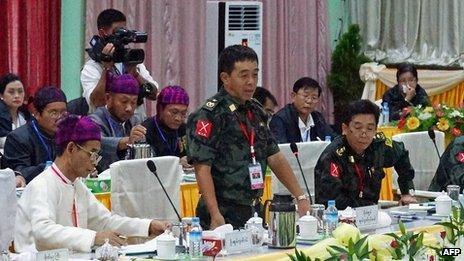 The Burmese authorities say they have signed a preliminary peace agreement with ethnic Kachin rebels in the north.
It follows three days of talks aimed at bringing Burma, also known as Myanmar, closer to a comprehensive ceasefire to end decades of fighting.
The two sides agreed to work "to end all armed fighting" and form a plan to resettle people who fled the violence.
Tens of thousands of people have been displaced in the northern state of Kachin since fighting erupted in 2011.
The government hailed the deal, with the minister in charge of peace efforts, Aung Min, describing it as "turning a corner".
"We're working not just towards a just and sustainable peace but towards a new political culture, one built on compromise, mutual respect and understanding," he said in a statement.
Rebel spokesman Dau Hka told the Associated Press news agency they were encouraged that the government had shown a commitment to end the fighting by political means.
Burma has been tackling unrest from ethnic armies fighting for regional autonomy for the past sixty years, but the rebel Kachin Independence Organisation (KIO) is the last one to negotiate a ceasefire.
Sporadic fighting has killed hundreds since a 17-year ceasefire between the army and the KIO broke down in 2011.
The failure of the last ceasefire has left the Kachin rebels reluctant to sign a simple ceasefire with the government, says the BBC's Jonathan Head.
While the government will not accept the Kachin rebels' demand for autonomy within a federal system, he continues, it has agreed to hold what it calls political negotiations and the Kachin side has kept talking.
The terms of the deal, which was agreed in the government-controlled town of Myitkyina, include working to end all fighting, establishing a joint monitoring committee to observe the ceasefire, and helping to resettle the thousands of displaced people.
It builds on a seven-point deal agreed by the Burmese government and Kachin rebels in May, which included working towards a ceasefire and redeploying armed forces on both sides.
The government is pushing for a nationwide ceasefire with all the ethnic armies by the end of the year.
Our correspondent suggests the task of building a lasting peace will be much harder, with discussions over power and resource-sharing likely to be especially difficult.