Abbott accused of taking taxpayers for a ride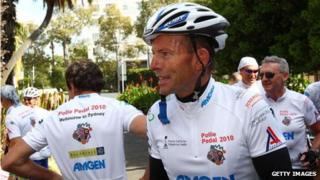 Politicians the world over get a bit jumpy when people start looking through their expenses claims.
The British parliamentary scandal of 2009 supplied the UK media with ample fodder for months if not years. The famous "Duck House" claim has even provided inspiration for a West End play.
This week it's Australia's new leader who is facing the flak.
Just one month into the job, Prime Minister Tony Abbott has had to defend using more than A$1,200 ($1,100; £700) of Australian taxpayers money in travel expenses to allow him to take part in an Ironman Triathlon in 2011, when he was leader of the opposition.
Mr Abbott, a keen sportsman who spends a good amount of his time in lycra, has also put in claims when he's been taking part in charity cycling events.
He's argued that both of these sporting competitions were community occasions which allowed him to visit parts of the country and constituents that he might not ordinarily of been able to do so.
In other words all part of the day-to-day campaigning that politicians have to do.
For the moment Mr Abbott is insisting he's done nothing wrong but there are few issues that irritate voters more than the feeling that their politicians are abusing a privileged position.
It comes less than a week after the prime minister said he's paid back around A$1,600 in travel expenses he'd claimed to attend the weddings of two parliamentary colleagues in 2006.
The Labor opposition is now calling for a wider investigation into MPs expenses claims. But politicians from both sides may be wary about where that may lead.
Labor has had its fair share of corruption scandals in the past. Some of it's members are already having to answer questions about their own expenses claims.
A can of worms could be about to be opened.