Letter reveals Australian outlaw Ned Kelly's last stand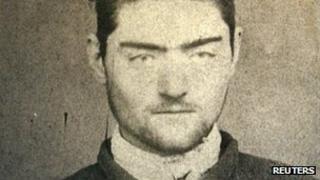 A letter has emerged containing an eyewitness account of the capture of Australian outlaw Ned Kelly in the 1880 Glenrowan shoot-out.
The letter was written by Donald Sutherland, who was working nearby, to his parents in Scotland.
In it the bank clerk describes the armour Ned Kelly wore and his calm demeanour after being shot many times.
The letter, handed down through several generations, is to go on display at the State Library of Victoria.
Ned Kelly, who led a gang of outlaws in Victoria, was hanged at Old Melbourne Jail in 1880 for killing three policemen.
He was seen by some as a cold-blooded killer and by others as a folk hero who fought the colonial authorities.
'Powerful man'
It was in the Victoria town of Glenrowan that he was shot and captured by police, while other members of his gang, including his brother, were killed.
"On hearing of the affray, I at once proceeded to Glenrowan to have a look at the desperados who caused me so many dreams and sleepless nights," Mr Sutherland wrote in his letter.
"I saw the lot of them. Ned, the leader of the gang, being the only one taken alive. He was lying on a stretcher quite calm and collected notwithstanding the great pain he must have been suffering from his wounds."
The outlaw, he said, was "encased in armour made from the moule boards [curved plates] of a lot of ploughs".
"Now the farmers about here have been getting their moule boards taken off their ploughs at night for a long time but who ever dreamed it was the Kellys and that they would be used for such a purpose," he commented.
Ned, he said, did not "look like a murderer and bushranger".
"He is a very powerful man aged about 27, black hair and beard with a soft, mild-looking face and eyes, his mouth being the only wicked portion of the face," he said.
Mr Sutherland said he enclosed in his letter hair from the tail of Ned Kelly's horse - a mare who "followed him all around the trees during the firing".
In a statement, Victoria's state librarian Sue Roberts called the letter a "remarkable document".
"This letter is a very personal account of events that have become part of Australia's folklore," she said.