Australia PM Tony Abbott in expenses row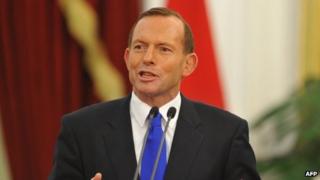 Australian Prime Minister Tony Abbott has become embroiled in a row over expenses claims, less than a month after taking office.
Last week Mr Abbott paid back funds claimed to attend the weddings of two colleagues.
On Tuesday he defended claims relating to two sporting events, saying both represented community engagement work.
Tony Abbott, who heads a conservative coalition, ousted Kevin Rudd as prime minister in the 7 September election.
Speaking at the Apec summit on the Indonesian island of Bali, Mr Abbott, an avid sportsman, said claims related to a triathlon event in which he competed in the town of Port Macquarie in 2011 were justified.
''Let's not forget that Port Macquarie was a marginal seat effectively and I want to assure you that I don't go to marginal seats simply for sporting events, although the sporting event in question was a community event,'' he said.
''I think you'll find there were quite a few other community events involved in those visits.''
He also defended claims related to a multi-day charity cycling event known as Pollie Pedal, saying the trip took him ''to towns, communities, sometimes hamlets that rarely see a politician''.
''It is a perfectly legitimate thing for a member of parliament to do," he said.
Last week, Mr Abbott repaid a total of A$1,700 ($1,600, £995) claimed to attend the weddings of two former political allies in 2006.
He said he checked his claims after two of his frontbenchers came under fire for expenses related to the wedding of a radio host. Both lawmakers have since repaid the funds.
'Confusion and uncertainty'
The opposition Labor party has called for the system to be tightened up.
"I don't think most MPs - the vast, vast, vast majority - are out to do anything wrong," Bill Shorten, who together with Anthony Albanese is contesting the Labor party leadership, told ABC radio.
"If there is this confusion and there is this uncertainty, then it does need to be cleaned up for the public confidence in the system," he added.
Labor frontbencher Mark Dreyfus called for a "serious investigation", describing a "pattern of behaviour by Coalition MPs".
However, later on Tuesday, it emerged that he would also return more than $400 ($370; £234) in incorrect expenses.
He had claimed for accommodation for a weekend in Canberra, between two weeks when parliament was sitting, in August 2011.
However, he was in fact skiing at Perisher Valley that weekend. The claim was an "an administrative error", his office said in a statement.
"Mr Dreyfus is sorry for the mistake and is repaying the $466," the statement added.