Pakistan bomb kills three troops in quake area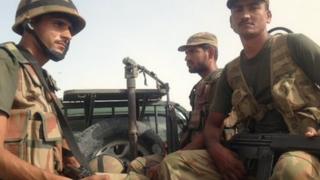 An improvised roadside bomb in the earthquake-hit Pakistani province of Balochistan has killed two soldiers and wounded three others working to help survivors, army officials have said.
The explosion near the army vehicle happened near the town of Mashkay.
The area was one of many parts of Balochistan hit by the 24 September quake which killed 400 people.
Baloch insurgents had warned of attacks on the military who they earlier accused of suppressing their movement.
The 7.7-magnitude earthquake affected more than 300,000 people.
Correspondents say that the attack late on Tuesday highlights the difficulties and dangers inherent in providing relief supplies to an area where separatists have been battling the army for years.
The vehicle hit by the bomb was carrying troops whose unit had been dispatched to the area to provide relief to disaster zone inhabitants.
No-one has claimed responsibility for the attack but correspondents say that suspicion has fallen on separatists.
Rockets were also launched against members of the paramilitary Frontier Corps delivering earthquake relief in the Awaran district of Balochistan, army officials said. There were no casualties.
Insurgents have launched several attacks on rescue teams, correspondents say, firing rockets at army helicopters and issuing threats.
The BBC's Shahzeb Jillani says that resentment against the army and the Frontier Corps runs deep in Balochistan, Pakistan's largest province in terms of area.
The province is renowned for being rich in resources while at the same time being one of Pakistan's most impoverished regions.
Thousands of Pakistani soldiers have been deployed there, and effectively control large parts of the province. The army says it is fighting for the territorial integrity of Pakistan. It says that the insurgents are being backed by foreign forces, namely India.
But our correspondent says that the army itself is viewed as an outsider force, largely composed of ethnic Punjabis and Pashtuns.
Troops are accused of carrying out large-scale enforced disappearances and custodial deaths of Baloch nationalists - charges they deny.