Afghan soldier arrested over Australia soldier deaths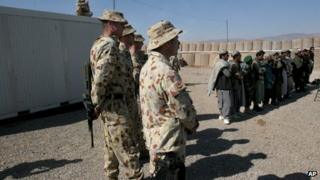 A former Afghan National Army soldier accused of killing three Australian soldiers has been captured and will be put on trial, Australian forces say.
Former sergeant Hekmatullah is accused of conducting the "green on blue" attack in August 2012.
He had been captured in Pakistan by February, and has now been transferred to the Afghan authorities, Australian forces say.
Australian troops are in Afghanistan supporting Nato operations.
"In February this year, Pakistani authorities formally advised Australia that Hekmatullah was in custody in Pakistan," Australian Defence Force Chief David Hurley told reporters.
The former sergeant - who, like many Afghans, goes by just one name - was "subsequently deported to Afghanistan," Gen Hurley said, and was expected to be charged with murder.
Gen Hurley said that they had waited until the suspect was successfully transferred to the Afghan authorities before announcing the capture.
The Australian military says it worked closely with Pakistan's intelligence services who made the arrest, the BBC's Jon Donnison in Sydney reports.
'Bittersweet'
Australian soldiers Lance Corporal Stjepan Milosevic, Sapper James Martin, and Private Robert Poate were shot in Uruzgan province by a man in Afghan army uniform in August 2012.
Two other soldiers were also injured in the attack.
Gen Hurley described Wednesday's news as "bittersweet" for the families of the soldiers.
"On the one hand, there is a great sense of relief, but it will not change history," he said.
At least 38 soldiers from the Australian Defence Force have been killed in Afghanistan since 2002.
Australia has said most of its troops will be home by the end of 2013 and that it will close its Tarin Kot base in Uruzgan province by the end of the year.