Pakistan grandfather mourns 15 relatives killed by bomb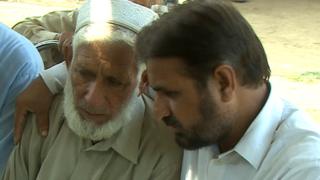 On Sunday morning, a bomb tore through a marketplace in the heart of the city of Peshawar. More than 40 people were killed and 110 injured.
Behind those horrific statistics lie appalling personal tragedies. What it did to the family of 61-year-old Sartaj, from the town of Shabqadar, was devastating in the extreme.
"At the site, someone found the mobile phone of my nephew, Sohrab," Sartaj tells us, in the mourning tent by his home.
"He called me and asked my relation to Sohrab. Then he told me my nephew had been killed in the blast."
'Lost my mind'
With his voice breaking, Sartaj told how he and his son had rushed to Peshawar to pick up the body of Sohrab, only to be greeted by a nightmarish scene at the hospital.
"In the emergency ward, first I saw the body of my youngest son, then my wife, then it seemed like the place was filled only with the bodies of my relatives.
"They were everywhere. I just lost my mind."
In total, Sartaj lost 15 members of his family. The youngest was his three-month-old grand-daughter, Zainab.
Five more of Sartaj's relatives, four women and a child, remain injured in hospital.
The driver who was taking them through the old city of Peshawar was killed.
Their packed people-carrier was passing alongside the car bomb as it was detonated. Police estimate more than 200kg (440lb) of explosives were used.
The bomb crater remains, deep and wide. Buildings of the historic "Storyteller's Bazaar" are charred, their facades blown open.
The day had started as a joyful one for Sartaj and his relatives. The women in the family in particular had been excited.
Sartaj's son Dilraj, 20, was engaged to be married, and as is the custom in the area his mother, sisters and cousins and their children were to visit other relatives together to invite them to come to the wedding.
They hired a vehicle and had decided to start with the relatives who lived in Peshawar's old city.
"There was so much happiness in our house," says Sartaj. "The ladies and girls bought new clothes. They were laughing as they left. But now they're all gone."
He talks of how he has been unable to enter his house since the attack.
"Yes, we are poor, but my home was like a garden of roses," he says breaking down. "With our limited resources, we had a very happy life, but someone has burned my garden and locked it for me."
Sartaj, of course, is as confused as any Pakistani as to why these attacks are happening and why they are targeting civilians like his children and grandchildren.
"If I blame somebody, how will it help me? If I scream, will it bring them all back?" he says.
"This incident was in my destiny: it was planned for me by God. If it had not happened to me, it would only have happened to someone else."