South Korea and US sign pact 'to deter North Korea threat'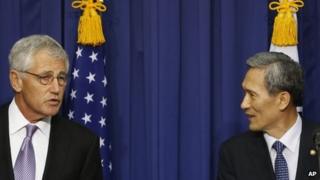 South Korea and the US have signed a military pact that provides for a more co-ordinated response against possible threats from North Korea.
The "strategic framework" outlines how to handle "key North Korean nuclear threat scenarios", a statement says.
US Defence Secretary Chuck Hagel has been in Seoul this week for security talks with South Korean officials.
The two Koreas remain technically at war, as the 1950-53 conflict ended in an armistice and not a peace treaty.
Mr Hagel and South Korean Defence Minister Kim Kwan-jin signed the pact on Wednesday.
"This strategy establishes a strategic alliance framework for tailoring deterrence against key North Korean nuclear threat scenarios across armistice and wartime, and strengthens the integration of alliance capabilities to maximise their deterrence effects," Yonhap news agency reported, citing the joint statement.
The statement did not provide details of the new framework, reports say.
Mr Hagel, who is visiting South Korea for the first time since becoming defence secretary, said in a press conference: "Of particular concern are North Korea's nuclear and ballistic missile programmes, its proliferation activities and its chemical weapons.
"There should be no doubt that any North Korean use of chemical weapons would be completely unacceptable," he added.
Both countries also said that South Korea and the US have set up a panel to review the eventual transfer of US operational control over South Korean troops in the event of war.
South Korea resumed peacetime control in 1994. However, the US is still obliged to lead South Korea's military, as well as US troops deployed in South Korea, in the event of war.
Seoul was due to resume control in 2015, although some reports have suggested it wants the deadline to be pushed back.
Tensions between the two Koreas rose earlier this year, after North Korea's third nuclear test in February.
Earlier this month, satellite imagery also suggested that North Korea had restarted a reactor at its Yongbyon nuclear facility, and tested a long-range rocket engine, a US think tank said.