Bangladesh BNP leader Chowdhury war crimes verdict due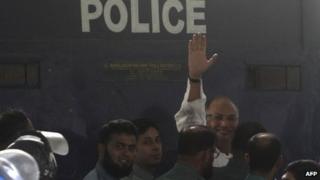 A special war crimes tribunal in Bangladesh is due to issue its verdict for a leader of the main opposition Bangladesh Nationalist Party (BNP).
Salahuddin Quader Chowdhury MP denies charges including genocide, religious persecution and torture during the 1971 war of independence with Pakistan.
This will be the first verdict involving a member of the BNP.
Previous verdicts against leaders of the Islamist Jamaat-e-Islami party have been followed by violent protests.
The war crimes tribunal was set up by the Awami League-led government in 2010.
However, human rights groups have said the tribunal falls short of international standards and opposition parties accuse the process of being politically motivated.
Analysts say the tribunal's verdicts have exposed profound divisions in Bangladeshi society.
Torture cell allegations
Last month when the Supreme Court gave the death penalty to a senior Islamist leader, Abdul Kader Mullah, there were demonstrations both for and against the decision.
The sentences handed down to Islamist leaders over the last few months have unleashed a wave of unrest, pitting supporters of Jamaat, who accuse the government of pursuing a political vendetta, against pro-government groups.
Mr Chowdhury, who is an MP, is the most senior leader from the party to face charges of crimes against humanity. Better known as Saqa, he is a member of the party's main policy-making body.
Prosecutors have accused Mr Chowdhury of genocide, abduction, committing atrocities against Hindus, and forcefully converting a number of Hindus to Islam.
The prosecution also says that his father's residence in Chittagong was turned into a torture cell during the war.
Mr Chowdhury has denied all the charges and his supporters describe the trial as politically motivated.
His family also alleges that he has been tortured while in custody - something denied by the authorities.
The special court was set up in 2010 by the current Bangladeshi government to deal with those accused of collaborating with Pakistani forces who attempted to stop East Pakistan (as Bangladesh was then) from becoming an independent country.
Bangladesh government figures estimate more than three million people were killed during the independence war. Other researchers put the figure at between 300,000 and 500,000.