Can Singapore tackle its match-fixing stain?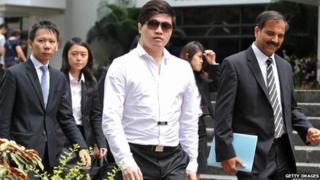 Singapore, South East Asia's wealthy island city-state, has a reputation for being safe and stable. Its squeaky-clean image, however, only goes skin deep, argues British writer and journalist Neil Humphreys, who has tracked Singapore's football match-fixing for many years.
On Halloween, the spectre of match fixing returns to Singapore when a nightclub owner appears in court in a trial featuring sex, prostitutes, bribery, three football officials, and an alleged criminal betting syndicate.
Eric Ding is accused of providing prostitutes for a Lebanese referee and his two assistants in return for fixing an international match in the Asian Football Confederation (AFC) Cup.
The Lebanese trio arrived in Singapore in April last year to officiate at a match between Singapore's Tampines Rovers and East Bengal of India.
However, they never made it to the pitch. Instead, they were picked up by Singapore's Corrupt Practices Investigation Bureau (CPIB) and led away in handcuffs.
A year earlier, Ali Sabbagh, the referee, met 31-year-old Mr Ding in a Beirut cafe where he alleges he was told that match fixing would make him "more money in one year... than he would as an AFC referee in 10 years".
Fixers can target officials, players, managers and even employees with a national football association to help arrange bogus friendlies but Mr Ding allegedly took a simpler route.
According to Ali Sabbagh's court testimony, Mr Ding sent him "20 to 30" YouTube videos to watch. Mr Ding also allegedly told him that the easiest way to rig a game's outcome was to award some penalties.
Disputed spot-kicks can be blamed on human error, rather than a corrupt official.
According to state prosecutors, at one of these meetings the Lebanese referee was offered a choice of Colombian or Asian girls. He asked for "tall Asian girls".
Eventually all three pleaded guilty to accepting free sex to throw the game. Mr Sabbagh, who had been a full international Fifa referee since 2008, sobbed in court as he was handed a six-month jail sentence in June.
Prolific match fixers
Whatever the outcome of Mr Ding's trial, which resumes 31 October, his case is just the latest in Singapore's continuing struggle to disentangle itself from the unwanted reputation of being the engine that drives international football corruption.
In the past 40 years, there has been a succession of court cases involving Singapore-based match-fixing syndicates.
While the city-state remains better known as a magnet for multinational corporations and enterprising expatriates, Singapore has also attracted some of the world's most prolific match-fixers.
Taking advantage of the globalisation of football and the explosion of illegal betting markets in Asia, these men are capable of rigging games everywhere from Eastern Europe to the Middle East and from the Asian Champions League to the Uefa Champions League.
As Subhas Anandan, Singapore's high-profile criminal lawyer who has defended several match-fixers over the years, once told me: "At any given time, there are always a couple of match-fixers in the air, flying somewhere to fix a game."
Worldwide problem
Last month Singapore authorities arrested what the head of Interpol described as "the mastermind and leader of the world's most notorious match-fixing syndicate".
In all, 14 people were arrested, including the alleged mastermind, Dan Tan, who has been linked to match-fixing in Singapore since the 1990s.
Dan Tan has been the focus of global speculation since February 2013, when anti-crime agency Europol released details of its long-running match-fixing probe. It claimed to have uncovered 680 suspicious football matches across the world, including World Cup and European Championship qualifiers and two Champions League games.
Italian investigation papers, obtained by Singapore's The New Paper, detail Dan Tan's alleged involvement in the rigging of 33 matches in Italy's top two leagues, Serie A and Serie B, over the last two years.
This included a game where an Italian goalkeeper with gambling debts drugged his entire team to lose the match.
According to Italian investigators, up to two million euros ($2.7 million) was bet on one of the rigged matches through the use of Asian betting websites.
Arrest warrants for Mr Tan are still active in Europe but his own country got to him first.
The September arrests by the Singaporean authorities are notable for their scale and decisiveness. Since the Europol allegations in February, the city state had been accused of ignoring the match-fixing gangs in its midst and perhaps glossing over its gambling problems.
Trillion dollar business
Despite Singapore's reputation as one of the world's least corrupt nations, it also has a long-standing, deeply entrenched gambling culture.
As early as 1820, the first British Resident and Commandant of Singapore, William Farquhar, sold gambling licences to satisfy demand and raise revenue.
Little has changed. In 2006 Singapore granted gaming licences to two international casino operators.
This legal gambling is expected to contribute several billion dollars to Singapore's economy by 2015.
However, the sums involved in illegal gambling could be huge. Conservative estimates suggest only 20-30% of all bets placed in Singapore are legal.
The rest goes to the illegal bookies and online sites established off-shore in territories such as China, Hong Kong, Macau and Vietnam.
According to one estimate, betting outlay in South-East Asia is some 30-50 times greater than Europe where annual revenues were 85 billion euros in 2011.
Interpol has called match-fixing a trillion-dollar industry.
Having played for Manchester United and England, Paul Parker thought he had seen it all. Two Premier League titles and a World Cup semi-final, the retired English full-back never thought of himself as naive. But Singapore opened his eyes.
"In 17 years playing football in the UK, I never heard a single allegation about match-fixing. In three years in Singapore, those allegations have now reached double figures," said Mr Parker, who runs a football academy in Singapore.
"I've had professional footballers tell me they think they've played in fixed games."
Faking an entire football team
But last month's arrests and Mr Ding's trial indicate a decisive shift in both public perception among Singaporeans and the prioritising of match-fixing investigations. Singapore is growing weary of its unsavoury reputation. Authorities are promoting a zero-tolerance policy of the syndicates and jittery match-fixers are turning on each other.
Observers say Mr Tan's name only emerged as the central focus of international investigations after Wilson Raj Perumal, one of Singapore's more notorious match fixers, was arrested abroad.
Cutting his teeth as a match-fixer in the regional Malaysia Cup tournament in the 1990s, Perumal picked up a string of convictions for bribing football officials, as well as attacking two players with a baseball bat.
His activity was fuelled in part by the explosion of satellite television beaming matches into Asian living rooms. Singtel, the main Premier League pay TV platform, dedicates nine channels to its football content, showing all 380 matches live. TV audiences for top fixtures can be anything from 300,000 to 500,000.
The surge in international football's popularity in the region left men like Perumal well-placed to profit.
In 2010, posing as a Fifa match agent, he organised an entire, fake Togolese national team to play in a rigged game against Bahrain. But in February 2011, he was arrested and convicted of trying to bribe players and officials in the Finnish league. He received a two-year sentence.
Convinced that the Finnish authorities had been tipped off by other match-fixing associates, he began to reveal details of his extraordinary exploits.
In February 2012, he was taken to Hungary where he was also wanted. He is currently under house arrest aiding their enquiries.
More work to do
In fairness to the Football Association of Singapore and the CPIB, Singapore was the first nation to convict a Fifa referee for match-fixing in 1994. The city-state was also the first to introduce random, but compulsory, lie detector tests for footballers in 2001.
And that appears to be the case with Dan Tan. His alleged syndicate was under surveillance for some time as Singapore's law enforcement agencies gathered enough evidence before taking action in a bid to take down the entire match-fixing ring.
Following the arrests, the CPIB and the Singapore Police Force issued a joint statement: "Singapore is committed to eradicate match-fixing as a transnational crime ... (and) will continue to work with (Interpol) ... and the global community in our fight against global match-fixing."
Much of their evidence is still likely to come from the men in the middle. The convicted Lebanese officials may assist Singaporean authorities in the case against Mr Ding. Perumal is still talking to Hungarian officials. When he's done, the Italians would like a word.
But whatever happens to Perumal - and Mr Ding in the coming weeks - this isn't the end of Singapore's links to international football corruption. It's barely the beginning.
The match-fixers are proving to be the most stubborn of stains on Singapore's otherwise clean image. They cannot be entirely scrubbed away.
Neil Humphreys is a Singapore-based football writer and author of the best-selling novel Match Fixer.