Japan arrests Chinese sailor over deadly boat collision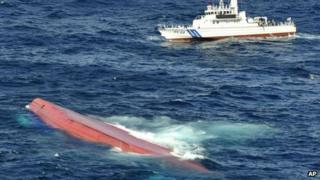 Japan has arrested a Chinese sailor after a deadly collision between two cargo ships in Japanese waters, officials say.
Xia Hong-bo, 35, was on duty when the Sierra Leone-registered ship Jia Hui crashed with the Eifuku Maru No 18 on Friday, Japanese coast guard say.
Five crew members of the the Japanese-registered Eifuku Maru were killed and one is still missing.
The collision was about 11km (seven miles) off an island south of Tokyo.
The 498-tonne Eifuku Maru capsized after it collided with the 2,962-tonne Jia Hui. A 61-year-old engineer was still missing on Monday, reports say.
Xia Hong-bo, who is being held on suspicion of negligence, was quoted as saying he was unable to avoid the collision despite efforts to do so, Kyodo news agency says.
The 13 crewmembers of the Jia Hui, bound for South Korea, were unhurt, Kyodo adds.
The Chinese embassy in Japan said Mr Xia was arrested late on Sunday and the embassy said it has asked Japan to investigate the incident and provide a lawyer for Mr Xia, Xinhua reports.
On Friday, Japan's coast guard sent boats and helicopters to search for the missing crew. The bodies of the five crew members were recovered.
At the time, a spokesman for the coast guard said they were unsure of what caused the collision.