The bombing of my childhood haunt in Peshawar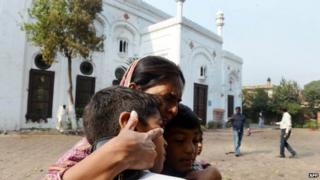 The deadly suicide bombing of a church in the Pakistani city of Peshawar last weekend shocked the nation. When BBC Urdu journalist Haroon Rashid, who has reported on many bombings, arrived at the scene, he found himself overwhelmed by the tragedy that struck at the very doorstep of a childhood haunt.
Last Sunday dozens of people were killed in an instant when two suicide bombers detonated themselves in the grounds of the beautiful whitewashed All Saints church in the city of my birth, Peshawar. The final death toll was 81.
I arrived at the scene a few hours later. I thought I had to go and see what had happened to my old haunt. I was not prepared for the feelings that would overcome me.
This church tragedy - after all the tragedies I have witnessed in 25 years of reporting - became an emotional watershed - perhaps because it felt as if my childhood had been bombed that day.
Horrifying and surreal
Across the road from the white church was my missionary-run Edwardes High School. I studied there from the age of five to 15, and for a decade of my school life I played in front of this church.
It was part of my daily landscape. As we usually arrived 10 to 15 minutes early and did not want to go straight into school, we would play hide-and-seek on that road until the bell rang.
The road had barely changed but I did not recognise the scene that greeted me.
As soon as I entered the vast playground of nearby St John's Church and School, where the bodies were kept, I felt I had suddenly shifted to another universe - a horrifying and surreal place.
There were wailing relatives, crying children and men trying unsuccessfully to stop tears rolling down their cheeks. Coffins, some decorated with colourful sheets, were being moved around in different directions.
The blaring ambulance sirens added to the strange, depressing environment.
When the bombers struck, Sunday Mass had finished and about 60% of the congregation had already left. Those who remained had stayed back for the free food that was being distributed on the premises.
I am told the atmosphere was relaxed, and even some of the security guards joined in to get food - the service was over and they did not feel vigilance was needed at that point.
Now dozens of coffins were lined up, surrounded by wailing mothers and sisters. My mind just froze. I had a microphone in one hand and a camera in another, but I wasn't able to focus.
It was the first time in my career that I went back empty-handed.
Everyday brutality
I gave up trying to gather material and just stood in the middle of it all. For a moment I felt as if I was no longer in the world of the living. I was of no help to anybody, I was not even gathering the material to tell the world what had happened. I almost wept there.
Of my 25 years of journalism, 15 have been spent covering death and destruction in Pakistan and Afghanistan. This event is not unique in terms of the brutality meted out to ordinary people in this part of the world.
From counting charred bodies in Peshawar's busy Lady Reading Hospital in a December 1995 market blast to the massive earthquake that hit Pakistan's northern areas in 2005 and the unthinkable Red Mosque siege in 2007, I have seen a lot of horror - but so have the people of this city and country.
I can vividly recall the burnt body of a woman clinging to her dead baby. And the sobs of a man bombed in a US attack in Kandahar. A cameraman once fell right in front of me from a gunshot wound.
I also remember some of my dearest journalist friends like Hayatullah Khan, killed in the troubled North Waziristan tribal region.
Peshawar is on the frontline of Pakistani terror, as it is frequently targeted by militants.
I asked one ambulance driver at the scene how he coped with the daily diet of transporting bodies. He said that initially it was hard but one gets used to it.
A group of teenage boys seemed uncertain about what to do. They were carrying a coffin carelessly, probably looking for a relative of the body inside.
They held it slanted and put it to the ground head-down to take a rest. It might have been a friend of theirs. They looked stunned too.
Assault on innocence
In the early 1980s, the city maintained an exemplary peace. I don't recall any religious tensions.
In 1992, when the old city of Peshawar was placed under curfew, it was sectarian Sunni-Shia tensions that divided society then.
The passive Christian community lived on menial municipal jobs or as teachers in missionary schools. They did not pose any economic or religious challenge to dominant Muslim society.
But back at the scene of the old church, I realised that I could not even remember if I had ever been inside it. I know things have changed: the church used to be much more visible and feel much more part of the fabric of the city because there were lower boundary walls and gates you could see through.
These days, security has made it more inaccessible.
I still do not know why this particular incident set off a response which rendered me unable to function - perhaps it was because it hit the site of my childhood, and seemed an assault on innocence.
A woman crying passed me by and she wailed: "My son has gone. My daughter has gone. Please take me as well. I don't want to live as well."
I may have been overcome with the situation, but she - like all the other Pakistani victims of terror - have to live with this loss until they too die.