New Australia PM Tony Abbott forms indigenous council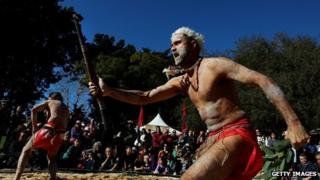 New Australian Prime Minister Tony Abbott has launched an Indigenous Advisory Council with a remit to reverse the chronic disadvantages suffered by Australia's first peoples.
The council will focus on creating jobs and reforming the welfare system.
Mr Abbott promised to make Aboriginal affairs a priority during his recent election campaign.
He is to continue his practice of living in a remote indigenous community for at least one week each year.
It allows him to see at first hand the crushing impact of disproportionately high rates of unemployment, alcohol abuse and ill health.
Indigenous Australians are the original inhabitants of the Australian continent and nearby islands - they are thought to have migrated from Africa to Asia about 70,000 years ago and to have arrived in Australia about 50,000 years ago.
In 2008 then Prime Minister Kevin Rudd formally apologised to the indigenous population for laws and policies that "inflicted profound grief, suffering and loss".
In his historic apology, he singled out the "stolen generations" of thousands of children forcibly removed from their families.
'No stone unturned'
The council formed by Mr Abbott will be led by a member of opposition Australia's opposition Labour Party, Walter Mundine, who says addressing indigenous disadvantage is bigger than politics.
"There is not any stone that we won't turn over and have a look at," Mr Mundine told Australian media.
The BBC's Phil Mercer in Sydney says that the council is the latest attempt by a federal government to tackle deprivation among Australia's first inhabitants.
It plans to overhaul the welfare system and cut down on bureaucracy.
There will also be a focus on creating jobs and boosting economic development.
Our correspondent says that a lack of opportunity has condemned generations of Aborigines to poverty.
During the recent election campaign, Australia's new conservative prime minister promised to make Aboriginal affairs a priority.