South Korea tycoon Kim Seung-youn's sentence overturned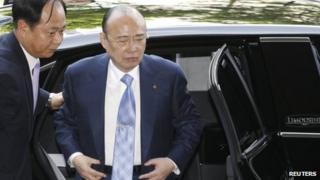 South Korea's top court has overturned the jail sentence of a tycoon convicted of embezzlement and asked a lower court to review its guilty verdict.
Kim Seung-youn, head of the Hanwha group of companies, was convicted last year of siphoning company funds for personal gain.
He was given a fine and a four-year jail term, which was reduced to three years on appeal because of ill health.
Hanwha is one of the largest business conglomerates in South Korea.
It has 53 subsidiaries that span manufacturing, construction and finance companies.
Kim was taken to prison after the verdict last year, but the sentence was suspended temporarily because of his poor health.
He was not present at the Supreme Court on Thursday and reports say he has been in hospital receiving treatment.
In its ruling last year, the lower court said Kim failed to show any remorse for using his position to benefit himself and his family, causing the company financial losses.
It added that Kim, 61, used Hanwha affiliates to "unfairly support" companies that he owned and used his influence to help companies run by his brother.
But Reuters reports that although the Supreme Court agreed that Kim did use affiliates in this way, it asked the lower court to verify if this actually caused losses.
Kim has always denied the charges and filed an appeal after his conviction.
In 2007, Kim was also convicted for abducting and assaulting workers in a karaoke bar, but his sentence was eventually suspended.