Singapore 'match-fixing boss' faces indefinite limbo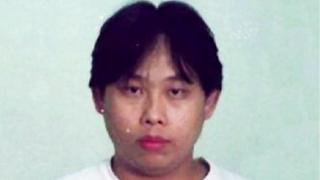 The head of the "world's largest and most aggressive match-fixing syndicate" was arrested last week in Singapore.
They are not my words, but those of the general secretary of the global policing body Interpol, Ronald Noble, as he hailed the capture of Tan Seet Eng and 13 of his alleged associates.
But despite Interpol calling Tan Seet Eng "the mastermind and leader of the world's most notorious match-fixing syndicate", there's little prospect of the man known around the world simply as Dan Tan ever going on trial.
No extradition treaty exists between Singapore and the countries who want him most, and a source close to the investigation told me they had not gathered enough evidence to try Mr Tan in an open court.
Instead Mr Tan looks set to be held indefinitely under Singapore's controversial security laws.
Finger pointing
Singapore began looking into Dan Tan's case back in 2011 after his name was cited repeatedly in Italian court papers.
In the documents from Italy's Calcioscommesse investigation, Dan Tan is referred to as "the boss" and it's alleged that from his home in Singapore he directed and funded a network of European fixers.
Immediately after the Italian papers went public fingers were pointed eastwards. Questions were asked as to why squeaky clean Singapore wasn't arresting Dan Tan.
His home, even his car (a BMW 735) were well known to the authorities, but until they had evidence that a crime had been committed on Singaporean soil the police were powerless to act.
In the wake of the Italian reports, the Singaporeans made requests to police forces in Italy, Hungary, Germany and Finland to share what evidence they had. But cross border co-operation between prosecutors proved painfully slow.
It took months and in some cases more than a year for documents to be shared while approaches to speak to key witnesses have still, in some cases, gone unanswered.
All that time Singapore's detractors sharpened their knives. The apparent inaction was criticised, with some even suggesting a high-level conspiracy to protect the alleged master match-fixer living in their midst.
Those with knowledge of the investigation say the truth is more mundane. It has simply proved very difficult to find those brave enough to testify against Dan Tan and his powerful syndicate.
Draconian security laws
Now the lack of visible response from the Singaporeans is explained as a deliberate tactic, with investigators apparently "playing dumb" so the alleged fixers dropped their guard.
Last week's breakthrough came after at least two members of the alleged syndicate decided to turn on their leaders.
That written testimony coupled with the evidence gathered from Italy of phone records, money transfers and flight details led to the Singaporean police moving in.
Fourteen Singaporeans were arrested on Tuesday. Nine were then released on bail with five, including Dan Tan, still being kept in custody.
But the situation now is still far from satisfactory.
The defecting members of the syndicate are too scared to testify in person so the police are hoping to use draconian security laws from the 1950s to keep the suspects in custody.
In the next few weeks all the evidence that has been gathered against the syndicate will be presented behind closed doors to the Ministry of Home Affairs and then an advisory council, before a final decision is made by the president.
If all agree that the suspects should remain under "preventive detention", then Dan Tan and his associates could be held for years without ever having the evidence tested in a court of law.
Under huge pressure to act, the Singaporeans say they've now "cut the head off the snake".
In doing so, the world's biggest match-fixing syndicate may have been disabled but if the process remains behind closed doors it hardly feels like justice being served.