Sergey Naumov: Concern over missing Uzbek reporter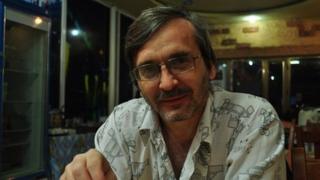 Media rights groups have expressed concern over the fate of Uzbek journalist Sergey Naumov, reportedly detained by police on Saturday,
Mr Naumov had been investigating the use of child labour in Uzbekistan's cotton fields, his colleagues say.
He has not been heard from since he rang friends to say he was in police custody - the police deny holding him and his phone remains off.
Reporters Without Borders called on the authorities to provide an explanation.
"I have some misunderstandings with police. Ring the alarm if you don't hear from me," he is reported to have said in a phone call to friends before he went silent.
His colleagues say he had been collecting information on child labour ahead of the cotton picking season.
Uzbekistan is one of the world's main producers of cotton and the crop is a mainstay of its economy. It has a history of using child and forced labour at harvest time.
Global brands such as H&M, Adidas and others have boycotted Uzbek cotton products because of the use of forced labour.
The Central Asian state is notorious for not tolerating any criticism, the BBC's Abdujalil Abdurasulov reports. Mr Naumov's arrest, therefore, is not surprising, his colleagues say.
He has been working for a popular regional news agency Ferghana.ru and the Institute for War and Peace Reporting.
Police in the western city of Urgench where he was detained deny they are holding Mr Naumov, whose phone remains off.
"We are especially worried about Naumov because the highly sensitive stories he covers could result in the worst kind of reprisal in such a repressive country as Uzbekistan," Reporters Without Borders said.
"His arrest could be the realisation of the many warnings he has received threatening dire consequences if he did not stop."
The Organisation for Security and Cooperation in Europe's media representative has also written to the Uzbek authorities expressing concern about his disappearance.