China bans several weapon-related North Korea exports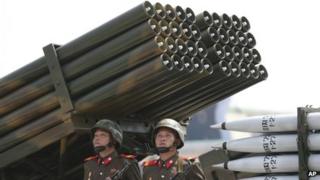 China says it has banned the export to North Korea of several weapon-related technologies which could be used in the development of nuclear weapons.
China's Commerce Ministry published the list, which includes components for nuclear explosive devices and rocket systems, on Monday.
It said the move would help implement UN resolutions on North Korea, and would be effective immediately.
Analysts say the ban shows China taking a firmer line against its ally.
The list includes technology in nuclear, missile, chemical and biological fields.
It says the restrictions are developed in accordance with several UN Security Council resolutions on North Korea.
China is North Korea's only ally and its major trading partner.
Western powers have previously criticised China for not rigorously enforcing UN sanctions imposed on North Korea because of its nuclear programme, the BBC's Martin Patience in Beijing reports.
However, relations between Beijing and Pyongyang have been seriously strained in recent months, our correspondent adds.
In March, China supported a UN Security Council resolution tightening sanctions against North Korea, in response to Pyongyang's third nuclear test in February.