Afghanistan Taliban kill 11 police in Kandahar province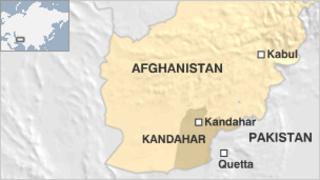 At least 11 Afghan policemen have been killed in an attack by Taliban militants on a checkpoint on the border with Pakistan, officials say.
The attack took place at a border post in the district of Shorabak in Kandahar province on Sunday morning.
A Taliban spokesman confirmed that the group had carried out the attack.
Afghan police are bearing the brunt of much of the Taliban's insurgency as foreign forces prepare to withdraw before the end of next year.
'Superior numbers'
A spokesman for Kandahar police, Ziaurrahman Durani, told the BBC the insurgents had attacked the border post in the early hours of Sunday morning.
The Shorabak district border is about 70km (43 miles) west of the Pakistani city of Quetta.
The spokesman said the Taliban had used heavy weapons, including mortars.
A senior police commander for southern Afghanistan said that there had been heavy fighting between police and the insurgents, but the Taliban had superior numbers and overcame the policemen.
A spokesman for the Taliban, Qari Yousef Ahmadi, said the insurgents were behind the attack.
Afghan police are in the forefront of the fight against the Taliban insurgency. In 2012, more than 2,000 policemen were killed.
The BBC's Bilal Sarwary in Kabul says that most of the fatalities were caused by roadside bombs and that, according to the interior ministry, on average between seven and 10 policemen die every day across the country.
Foreign combat forces are set to withdraw from Afghanistan in 2014 and many fear this could see the Taliban and their supporters gaining strength.
Nato troops have gradually been handing over responsibility for security to their Afghan counterparts, who now lead about 90% of all security operations.