North Korea rocket engine test 'probable' - report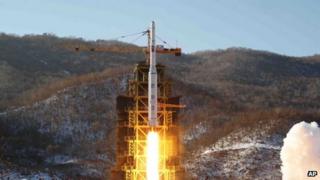 New satellite images of North Korea indicate that it probably tested a long-range rocket engine in August, a US think tank says.
Imagery showed fresh activity at North Korea's Sohae Satellite Launching Station, including what looked like a rocket stage, the report said.
The report also described blackened vegetation that was probably caused by flames and exhaust from the engine.
Last December, Pyongyang successfully launched a rocket into space.
The move angered its neighbours, who said the launch was a disguised missile test.
Satellite imagery from 20 and 25 August suggested a rocket engine had been tested between those dates, the US-Korea Institute at Johns Hopkins University wrote on the 38 North website.
The first image showed "a probable rocket stage" that was 2.5m (8ft) wide and 9m (30ft) long at Sohae, the report said.
It was difficult to identify the type of rocket engine tested, the report added, although "it [was] possibly the second stage of an Unha-3 space launch vehicle".
"Other possibilities include a second or third stage engine for a much larger DPRK rocket believed [to be] under development."
The second image showed changes at the site, including a crane which would be necessary to mount and remove the rocket engine, and vegetation in front of a flame trench which had turned brown, probably as a result of the engine test, the report said.
On 12 December 2012, North Korea successfully launched a long-range Unha-3 rocket, defying international warnings.
South Korea, Japan and the US said the launch was a disguised missile test, and the UN Security Council unanimously approved a resolution condemning the launch and tightening sanctions.
Last year's launch triggered a sharp downturn in the North's international image, the BBC's Lucy Williamson in Seoul reports.
Relations between the two Koreas have improved since then, but tensions have resurfaced in the past few days, with Pyongyang abruptly cancelling a cross-border reunion for separated relatives, our correspondent adds.