Candidate's home attacked ahead of historic Sri Lanka poll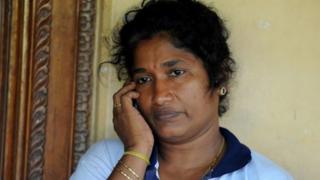 A Tamil opposition candidate says several of her aides were injured in an assault on her home, on the eve of a historic poll for Sri Lanka's north.
Ananthi Sasitharan said armed men surrounded her home and attacked campaigners. She left and was unhurt.
A lawyer said he believed they were from the army but the army denies this.
Voters in the north are set to elect their first ever semi-autonomous council, four years after the army defeated separatist Tamil Tiger rebels.
The Tamil-majority Northern Province was first promised such a body decades ago.
It is the only province which has never had its own council but the run-up to this vote has seen numerous allegations of army intimidation - all denied by the authorities.
The army still maintains a heavy presence in the region.
Volunteers 'assaulted'
The BBC's Charles Haviland in Jaffna says that there is an atmosphere of bitterness and violence in the area.
"My supporters took me to safety when about 70 armed men surrounded my house," Ms Sasitharan, a candidate for the Tamil National Alliance party, is quoted as saying by the AFP news agency. "They said they were looking for me and they wanted to kill me."
A lawyer for an independent monitoring group told the BBC he went to her home on hearing it was under attack.
She had left, but about several dozen men in army uniform, carrying guns, were at the compound and assaulted and wounded him and about eight of her campaigners, the lawyer said.
They threatened him at gunpoint if he reported the incident, he said. The army says it was not involved.
Ms Sasitharan's husband was a senior member of the Tamil Tigers but disappeared along with several comrades after surrendering to the government in 2009.
Our correspondent says that the election goes to the heart of how the country should accommodate its ethnic minority who complain of being second class citizens without a say in their own affairs.
Vast swathes of the region were once strongholds of Tamil Tiger rebels, who fought against the mainly Sinhalese army for a separate homeland as Sri Lanka was plunged into a bitter and bloody civil war for 26 years.
The rebels were defeated in May 2009 but the final phase of that war remains dogged by war crimes allegations and the government's rights record since then has come in for trenchant criticism.
The government has vehemently denied accusations of war crimes at the end of the war and says it has launched it own inquiries into alleged rights abuses and disappearances.
Army presence
As they vote for 38 provincial councillors, the people of the north are expected to back the Tamil National Alliance (TNA) - a political group that was once in effect a proxy for the Tamil rebels but now seeks greater devolution within a united country.
Their main rivals, the ruling United Peoples Freedom Alliance candidates, have been arguing that Sri Lankan President Mahinda Rajapaksa deserves credit for ending the war and bringing development to the region.
The conduct of these elections will be closely observed as Colombo prepares to host a Commonwealth summit in November - the Canadian prime minister has already said he won't attend.
After UN human rights commissioner Navi Pillay visited Sri Lanka earlier this month, she said the country was becoming increasingly authoritarian and feared that democracy had been undermined and the rule of law eroded. The government rejected her comments as "prejudiced".
The entire conflict left at least 100,000 people dead, but there are still no confirmed figures for tens of thousands of civilian deaths in the last months of battle: estimates range between 9,000 and 75,000.
One UN investigation said it was possible up to 40,000 people had been killed in that time. The government puts the figure at 9,000.