Afghan politician defects to Taliban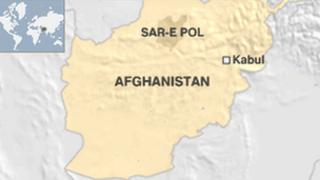 A former Afghan senator and district governor has defected to the Taliban in the northern province of Sar-e-Pol, officials have told the BBC.
Qazi Abdul Hai served as a senator between 2004 and 2008 and was later made a district governor in Sar-e-Pol.
Correspondents say he is thought to be the highest-ranking civilian official to have joined the Taliban.
The move comes as foreign combat forces prepare to withdraw from Afghanistan in 2014 and ahead of elections next year.
Mr Hai is believed to have defected to the Taliban along with two of his bodyguards on Tuesday.
Officials say it is unclear why he decided to join the Taliban and played down the impact of his decision and dismissed his influence.
"His defection does not have any impact on his people in the district, because he was not a very influential person," Abdul Ghafore Dastyaar, deputy governor of Sar-e-Pol, told the BBC's Jafar Haand in Kabul. He added that Mr Hai had left Afghanistan and was believed to be over the border in Pakistan.
The Taliban welcomed the move, describing it as an achievement that supports their cause and said that it was partly due to their efforts in the area.
Mr Hai also appears in a video posted on the Taliban website in which he describes himself as a former mujahideen fighter and says that in his four years in Kabul he saw what he describes as "the corrupt face of the government".
"In my four years' time during which I represented my people in the Senate I saw that a lot of cruelty and corruption carried out by the government people towards the Afghan population . Our villages were bombarded and our houses were searched by the invaders," he says on the video.
Correspondents say the video is being used as an opportunity to bolster Taliban propaganda effort as well.
They add that fact he is ethnically Aimaq - as opposed to Pashtun from whom the Taliban draw most of their strength - will be important for the Taliban, who want to present themselves as a cross-ethnic movement.
Taliban links
Abdul Khabir, a former MP from Sar-e Pol who knows Mr Hai very well, told BB Uzbek that the former senator had links with the Taliban from the time they were in power.
He added that Mr Hai had influence in some 20 to 30 villages in the district.
"Because elections are coming, the Taliban might want to use him to somehow disturb the process of the vote in the local areas where he has loyal followers," he said.
Sar-e-Pol, a mountainous region in Afghanistan's north, has not suffered the worst of Taliban violence over the years, but militants have increased their presence in the north in recent years.
Last year there were several defections to the Taliban among police with a police commander and 13 junior officers joining militants in western Farah province in late July. This was followed when 11 policemen defected in Helmand.