Taliban kill Afghan election official in Kunduz province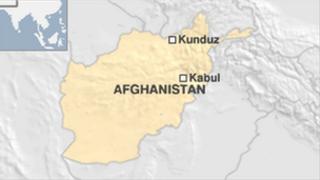 The head of Afghanistan's electoral commission in Kunduz province has been shot dead.
Amanullah Aman was shot by two gunmen on a motorbike while on his way to work, according to officials. He died of his wounds in hospital.
The Taliban said they carried out the attack in Kunduz city.
The Taliban leader, Mullah Omar, has said the movement does not view presidential polls due next April as legitimate.
"[Mr] Aman was shot dead in the morning in front of his house as he was leaving for his office," provincial spokesman Enayatullah Khaliq told the AFP agency.
Last month, Mullah Omar branded the presidential election a "deceiving drama" and said that the candidates' selection "de facto, takes place in Washington".
The Taliban have called on Afghans to boycott previous elections, deploying fighters to block roads to polling stations and targeting candidates and activists.
The registration period for next April's vote opened on Monday.
The election is seen as a key indicator of whether Afghan authorities can ensure security as foreign forces prepare to leave the country.
All foreign troops are due to have left the country by the end of 2014.