Chin Peng: Malaysia communist guerrilla dies in Thailand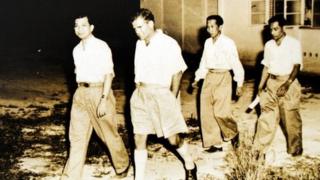 Chin Peng, a Malaysian guerrilla who led a fierce Communist insurgency against British forces after World War Two, has died, Thai officials say.
The 90-year-old died in a Bangkok hospital after years living in exile.
He fought alongside the British during the Japanese occupation of Malaya, but in 1948 began a struggle to establish an independent Communist state.
About 10,000 people are thought to have been killed during The Emergency, as the insurgency came to be known.
It was a campaign of jungle warfare against colonial rule that resulted in accusations of brutality on both sides.
A senior Malaysian opposition figure, Lim Kit Siang, wrote that his death marked the: "end of an era. Whether one agrees or not with his struggle, his place in history is assured", the Associated Press news agency reported.
His funeral is set to be held at a Buddhist temple in Bangkok, reports say.
For 12 years he and his band of predominantly ethnic Chinese fighters tied down a force of more than 100,000 Commonwealth troops despite being outnumbered nearly 20 to one.
After Malaya became independent in 1957 he continued to fight the government there, but communism failed to take root and he went to live in exile, eventually settling in Thailand.
Though the Communists signed a peace treaty with the Malaysian government in 1989, Chin Peng was not allowed to return home, with officials saying it would anger too many Malaysians who lost loved ones during the insurgency.
The Malaysian government rejected many applications from Chin Peng to return to his homeland.