Philippine army 'surrounds rebels' in Zamboanga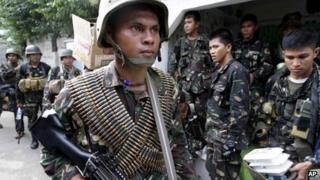 Philippine soldiers are closing in on a few dozen armed rebels whose group stormed the southern city of Zamboanga on Monday, forcing thousands to flee.
The army said about 50 rebels had been killed and 40 more captured during a week-long siege that has brought the city of one million to a standstill.
The gunmen were reported to have taken about 100 civilians hostage, but most have now been freed, officials say.
The rebels are thought to belong to one of a number of separatist groups.
Their presumed leader, 71-year-old guerrilla-turned-politician Nur Misuari, has said little since the siege began.
A government attempt to broker a ceasefire apparently faltered because Nur Misuari wanted safe passage out of Zamboanga for the gunmen.
Analysts say he is angry because his faction of the once-powerful Moro National Liberation Front (MNLF) has been sidelined in government peace talks.
Last month he declared a whole area of the southern Philippines to be an independent state, but said he would pursue separation by peaceful means.
The gunmen arrived in Zamboanga on Monday by boat, and apparently tried to march on the city hall to hoist their flag.
When they failed, they took hostages.
The military said they launched a full assault on Friday when the gunmen set fire to buildings and left aid workers and civilians injured.
"We are gaining ground. We've taken back some of the areas from them. We are still moving forward," said Lt Col Ramon Zagala on Sunday.
He said some rebels had been caught trying to flee in civilian clothes, while others had surrendered.
He did not know how long it would take before the army restored full control.
More than 60,000 people have fled the violence, and at least four civilians were said to be among the dead.
The MNLF signed a peace deal with the government in 1996 and Nur Misuari served as the leader of an autonomous region until 2002, when he was removed amid criticism of his leadership.
Since then, his group has largely remained on the sidelines of the peace process, occasionally attacking soldiers around the Sulu islands, south-west of Zamboanga.