'At least 27' Afghan miners killed in collapse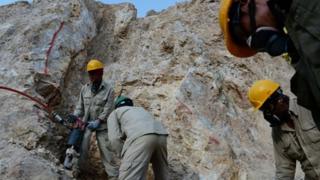 Twenty-seven Afghan miners trapped underground have been found dead in the northern province of Samangan, officials have confirmed to the BBC.
Provincial governor's spokesman Mohammad Seddiq Azizi said that the men had been working at the Abkhorak coal mine when part of it collapsed.
Four members of the rescue teams were badly injured; 14 were overcome by fumes but have been brought out safely.
An official said the rescue teams did not have the appropriate equipment.
The collapse at the mine, 215km (135 miles) north of the capital, Kabul, is the latest accident to hit Afghanistan's state-run mining industry.
In December, 11 miners were reported to have been killed in a similar incident in the northern province of Baghlan.
Afghanistan is known to have vast reserves of oil, gas, copper, cobalt, gold and lithium.
The country is also known to have a wider array of mineral resources; in 2010, the Afghan ministry of mines claimed its reserves were worth nearly $1tn (£0.63tn)