Australia's Labor set for party vote as Albanese announces candidacy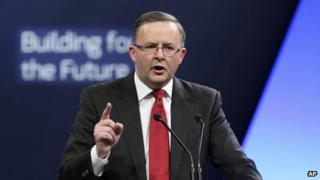 The Australian Labor Party is set for a leadership contest after former deputy prime minister Anthony Albanese threw his hat into the ring.
Labor was ousted from office in Saturday's general election and leader Kevin Rudd is stepping down.
On Thursday powerbroker Bill Shorten said he would stand for the top party job.
A ballot of Labor Party rank-and-file members will be conducted, followed by a caucus vote.
Each part of the process will carry 50% weighting in choosing the new leader. The ballot will take a month and former treasurer Chris Bowen will be party leader in the interim.
"Today the Labor Party begins the process of becoming a bigger, more transparent, more democratic party," he said.
"The Labor Party is big enough and mature enough to conduct this process in a way which shows the Australian people that we will be ready for government whenever we're called upon next."
The party is electing its new leader under new rules introduced by Kevin Rudd on the eve of the election to make it harder for party leaders to be removed by party factions.
Labor was thrown out of office in Saturday's general election, with the Tony Abbott-led Liberal-National coalition securing a decisive win. The new government will be sworn in on Monday.
The lead-up to the polls was dominated by Labor infighting, with Julia Gillard replaced by Kevin Rudd as prime minister and Labor leader after a leadership challenge just weeks from the election.
Mr Rudd says he will remain a back-bench MP. Ms Gillard has left politics.