Philippines Zamboanga fighting: Residents' voices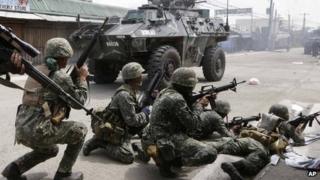 Fighting is going on between government troops and Muslim rebels in the city of Zamboanga in the southern Philippines.
More than 13,000 residents have moved into temporary shelters after a faction of the Moro National Liberation Front (MNLF) moved into areas of the city on Monday. Rebels are now holed up in a number of communities.
The BBC spoke to two residents to find out what life is currently like.
Kit Undug, teacher
I live pretty close to where the fire fights are happening.
The conflict is contained in about five villages, but it's pretty close to where we are now, just a few minutes' drive away.
Just a while ago, I could hear gun shots.
The situation escalates every afternoon. And actually, right now, there's a house burning in Barangay Santa Catalina. We can see the smoke from here.
All the schools here have been closed since Monday.
Normally, I'd go to work in the morning, but ever since the conflict started, I have been holed up at home.
For the past four days, I've only been able to go out twice and only for a few minutes, just to get some money from the nearest ATM and to buy some food supplies from the house.
Most of the ATMs right now really don't have cash any more, and the few remaining ATMs which have cash have very long queues.
And if you go to supermarkets, it takes a few hours to pay for what you want to buy.
I had a friend who went to a supermarket near where I live and it took him three hours to finish what he needed to do there.
People are engaging in panic buying. A lot of establishments are closed. The only ones that are open right now are a number of supermarkets and pawnshops. The banks are closed so if people don't have ATMs or cash to hand, they go to the pawnshops.
Most people here keep track of the situation through social media and through radio reports.
Updates on social media, however, are not that reliable because there's a lot of unfiltered and unverified info that comes out.
I think a lot of people will agree with my feeling that we feel trapped, in the sense that we can't really move around that freely.
Life in Zamboanga has been really peaceful for the past few years. I know that this part of the country sort of has a reputation for being dangerous, but the reality is, for the past few years, it's been really peaceful here. The last incident of this magnitude here was in 2001 when the same group rounded up hostages. But that's it. That was 12 years ago. In between, nothing this bad has happened here.
It's been really tough for the people here. When this conflict started, we didn't expect it to be this long. In 2001, the situation was contained in one or two days. This is now the fourth day. And it doesn't look like it's going to improve anytime soon.
Justin Paber, doctor
Like the past few days, the first thing I do in the morning is check the news first and check the social networks. The social networks are the first to update on what is happening.
My family, all of us, are in the health profession, so our way of fighting back is trying to get some normalcy back. So we try to get back to work by going to the hospitals and seeing patients who still try to go to the hospitals despite the chaos.
If we fear that the situation is getting worse, or there's a possible assault, we go home and try to lock ourselves in our houses and try to be as safe as possible.
It's ok to move around in the city. There are some incidences of sporadic fighting - like yesterday there was some shooting in an outside area also involving some MNLF. But as far as the actual fighting, it's still confined to the five villages.
People are more anxious today compared to yesterday, when there was a lull in the fighting. Today, the assault has continued and there has been a fire reported in the area.
I can hear the explosions from where I am today, [5km (three miles)] away from the fighting.
The city has imposed a curfew starting from 8pm until 5am in the morning since Monday.
We residents don't get enough sleep. We try to be as alert as possible, keep all our lights outside on.
Early morning, starting around 2am, we can see choppers doing patrol rounds in the city so you can hear that.
There is still the sense of fear. Even though the fighting is confined to the five villages, the whole city is a hostage to the current situation.
The patients I saw this morning are those from far away villages who have been planning to go to the doctor for the past two to three days. They can't stand their illness any more and have to go to the hospital. But the numbers are way down compared to the usual that we get.
We are not trying to be all gung-ho and trying to be brave. But I think if we can't actually be the ones to do the fighting, we can help the other people who also need our help. That's our way of fighting back also.
I think a lot of people are also doing that in Zamboanga despite the conditions right now. Stores are opening up, gasoline stations are providing services. Mechanics are having their shops open to get motorcycles fixed.
As far as our supplies at home, it's still available - we have two to three days of supplies. I think that's enough. A few days ago I was worried because I ran out of milk for my kids. Fortunately, some pharmacies opened so I was able to buy milk for my kids.
The fear is something might happen to you, something might happen to my wife. We leave the house, we kiss the kids. But there's always the thought that I might not come back when I leave the house.
Interviews conducted by the BBC's Amee Enriquez.