Bill Shorten to contest Australian Labor Party leadership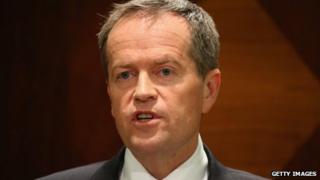 Powerbroker Bill Shorten has confirmed he will contest the leadership of the Australian Labor Party, following Kevin Rudd's decision to step down after Saturday's election loss.
Mr Shorten said he wanted to rebuild the Labor party and win the next election.
It is not clear yet if he will be challenged for the position by Anthony Albanese, Mr Rudd's former deputy.
Bill Shorten is a former education minister who has been an MP since 2007.
He was seen as a key figure in both the ousting of Kevin Rudd in 2010 in favour of Julia Gillard and the subsequent removal of Ms Gillard in June in favour of Mr Rudd.
"I bring energy, I bring optimism, I'm hungry for victory, and these are qualities which are important to make Labor competitive to win the next election," he told a press conference.
Labor lawmakers meet on Friday to discuss the leadership.
Two other possible candidates, former treasurers Chris Bowen and Wayne Swan, have confirmed they will not stand.
Labor was thrown out of office in Saturday's general election, with the Tony Abbott-led Liberal-National coalition securing a decisive win.
The lead-up to the polls was dominated by Labor infighting, with Julia Gillard replaced by Kevin Rudd after a leadership challenge just weeks from the election.
Mr Rudd says he will remain a back-bench MP. Ms Gillard, meanwhile, has left politics.